Services this week for African-American community's Queen Mother
ANDREE PENIX SMITH | 12/12/2013, 4:45 p.m.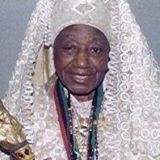 Funeral services for Queen Mother Sylvia Marion Parousia Pauline Jordan Purcell, 94, the founding and titular bishop of the Philippines-based Faith Restoration Inc., headquartered in Jersey City, N.J., will be held Friday, Dec. 13 from 5:30 p.m. to 10:30 p.m. at Christ Community United Church Center, the Palace Cathedral, located at 4140 Broadway at 175th Street in Washington Heights. Jordan transitioned on Nov. 23 at Park Gardens Rehabilitation and Nursing Center in the Bronx.
A viewing will be held from 3 p.m. to 8 p.m. on Thursday, Dec. 12 at San Juan Funeral Home, located at 317 Central Ave., corner of Menahan Street in Bushwick, Brooklyn. A final viewing will occur Saturday morning at 9 a.m. at the mortuary, followed by a procession at 10 a.m. to her internment at the Evergreens Cemetery, located at 1629 Bushwick Ave. between Jamaica Avenue and Cooper Street in Brooklyn.
The title of "Senior Queen Mother of the African-American Community" was bestowed upon her by the iconic freedom fighter Queen Mother Audley Moore before her passing in Harlem in 1996. On May 22, 1999, Jordan was ceremoniously elevated as Senior Grand Candace Queen Mother Abbess of the Ethiopian Orthodox Coptic Church of North and South America Diaspora.
She was a spiritual leader of several other religious and secular groups, including the Rev. Al Sharpton's National Action Network. She was also a member of the Ethiopian World Federation Inc., an international organization incorporated in New York in 1937 by prominent Harlemites under the auspices of His Imperial Majesty, Emperor Haile Selassie I of Ethiopia. She was chaplain of the Society of Old Brooklynites and a member of the Lily of the Valley Chapter No. 16 of the Order of the Eastern Star.
Jordan was a highly visible figure and prayer leader at many community events, including the annual Tribute to the Ancestors at Coney Island, Dance Africa at the Brooklyn Academy of Music and the International African Arts Festival, where she celebrated her birthday each year. She served several years as grand marshal of the Harlem Mother's Day Parade, in which she participated for more than a decade. She also marched each year in the veterans' Memorial Day and the African-American Day parades.
In spite of the blindness that overcame her later in life, she never shirked what she considered her duty—answering every call of members of the community and people who she loved so dearly. A lifetime commissioned major in the National Chaplains Association, she served as an Army chaplain during World War II. She was also a U.S. merchant marine, serving in the Army and Naval Transport Services.
A lover of drums, drumming and drummers, she was the anointed queen mother of the Prospect Park and the Marcus Garvey Park drummers' circles. She was a member of the Committee to Honor Black Heroes, Afrikan Unity of Harlem, the Essie Davis Memorial Scholarship Fund and the 204 W. 121st Street Tenants Association and was an avid supporter of the Black Panther Party, the United African Movement, the Federation of Black Cowboys, the Black Veterans Administration and numerous other organizations.