Services this week for African-American community's Queen Mother
ANDREE PENIX SMITH | 12/12/2013, 4:45 p.m.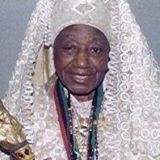 She participated in protest movements and demonstrations spanning decades, from the Scottsboro Boys trial in the 1930s to the Civil Rights Movement, the historic March on Washington in the 1960s, the many demonstrations in the city against injustices and racial profiling, including the Amadou Diallo protests, and Occupy Wall Street at Zuccotti Park in 2011.
Jordan touched the lives of tens of thousands of people and recruited scores into the service of God throughout the world. In 1998, she ordained Winnie Mandela as a minister of the gospel in South Africa. Among her celebrity godchildren were actor Wesley Snipes, the late Isaac Hayes and New York City icon the late Sonny Abubadika Carson.
Her personal motto, which she adopted as a child, was "Service to humanity is service to God."
She was born in Brooklyn on July 3, 1919, to the late Preston Emanuel Jordan, a Brooklyn real estate broker and businessman, and Ursula Antoinette Cox Jordan, both naturalized U.S. citizens who immigrated from Barbados. She recently recalled childhood memories of her family's involvement in the Universal Negro Improvement Association, founded by Marcus Mosiah Garvey.
"My parents, aunts and uncles owned several businesses and were very active Garveyites. They instilled the principles of Garvey in me as a young child. I remember watching the UNIA parade on Seventh Avenue sitting on my father's shoulders," she said during a recent interview.
On their website, organizers of the Native American Elders Gatherings at the Sunray Peace Village in Vermont described Jordan, who they honored as grandmother of the annual event: "A powerhouse preacher that weaves together all the extraordinary spiritual traditions she carries with mind-spiraling eloquence, fierce insight and wild humor that are so infectious. She often has people howling with laughter one moment and moved to tears the next. This ageless wonder truly awakens awe in all who watch her arrive."
Jordan, who described her mission as "interdenominational, interracial and international," held the title of Most Mother of Israel in the U.S. headquarters of the Cherubim and Seraphim Holy Order of Nigeria, located in Brooklyn. She was Clan Mother White Feather of the Ohatchee Cherokee Nation of New York and Alabama; a member of the Blackfeet Tribal Council; spiritual Queen Mother Nana Yaa Odo Boafo Asantiewaa of the Ashanti, as well as Nana NKum for the village of Assinkurua, both based in Ghana; and chaplain general of the Jamaican United National Association. She considered Jamaica as one of her homes.
In Brooklyn, she was assistant bishop of Paradise Baptist Church, a trustee of New Hope Missionary Baptist, elder spiritual Queen Mother for the Council of Women of Proverbs 8 and founder of Eureka of Love, House of the Good Shepherd Gift of God Mission of Arts, Culture and Crafts. She was also Universal Queen Mother of the Creator's Educational Crusade.
Readers interested in updated information about funeral arrangements should search "Queen Mother Sylvia Jordan" on her Facebook page at www.facebook.com/sylvia.jordan.3551.