Talking SCHOP! Battle: Gumbo II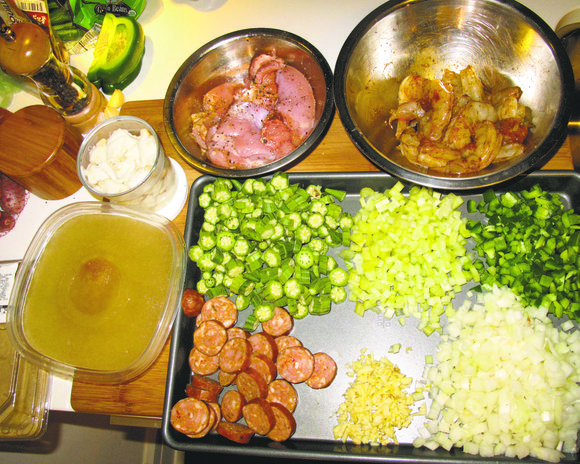 Last time, I left you with the Smithsonian's official gumbo recipe that my cousin Judy forwarded the family. While it had all of the parts (and then some) of a traditional gumbo, it was not gumbo as we know it. However, it did spark a little something in us to uncover our family's official recipe.
Though the original family recipe came from the same person, the interpretation was left to taste, memory and circumstance. Of course, the feeling of making a big pot for the entire family to enjoy is the same; how we go about getting there is a little different.

I grew up on my grandmother's, Annie Mae, and now my mother's gumbo recipe. It starts with a roux and includes chicken, andouille sausage, stew beef, tomatoes, crab, shrimp and okra. Until this email, I thought that this was the recipe law of the land.
Within a month, I got to see, smell and taste Aunt Florence/cousin Judy's gumbo. Their recipe was lighter in color and its texture resembled more of a soup than a stewed because they do not use beef, tomatoes and, most importantly, roux. Additionally, they make their chicken stock from scratch, and add fresh corn off the cob and dried baby shrimp.
The only similarities found in our recipes are the technique of "roping" (sautéing separately in a pan) the cut okra in order to get the slime out before adding it to the pot, as well as our collective dislike of the requisite filé. My mother doesn't like it because of the way an errant old canister looked in her mother's kitchen.
So which is more official? History tells the truth. My grandmother was the youngest of the children and learned how to make the gumbo from her elder sister, because her mother passed away when she was young. My grandmother soon departed Opelousas, La., for Harlem by way of Galveston, Texas, and Chicago, Ill.
The recipe that started from my great-grandmother Elizabeth King, a Choctaw Indian woman, the wife of Bonaparte, a sharecropper, utilized what was readily available on the land and in the waters: vegetables (onion, pepper, garlic, corn, okra), chicken, crawfish/crab/shrimp, and her native filé (dried and ground sassafras leaves, the root of which is used to make root beer). There was no roux because flour was a commodity to be traded as is or via baked goods.
When my grandmother left, she took what knowledge she had of the recipe and made it her own based on her location and her income. Perhaps my grandmother only had that old tin of filé to hold onto a memory of home …
Judy's grandmother Lindy stayed in Opelousas. She literally and figuratively stayed the closest to the origins of the recipe and its local ingredients, and it is perhaps the most official representation of our family's gumbo recipe.
I am still working on my gumbo recipe at a feverish pace. I've been sampling other's takes, most recently at the Cecil, which included Chinese sausage and another that is a version closer to my family's but with filé. I am not mad at either one of them.
Ding! Ding! The final bell has been rung in Battle: Gumbo, where there are only winners celebrating family and food and the joyous place that lives between the two. I hope you will give your family's gumbo recipe a whirl for the holidays, if for nothing else than just to uncover your history.
Happy eating and thanks for reading!
Kysha Harris is a food writer, culinary producer, consultant and owner of SCHOP!, a personalized food service offering weekly and in-home entertaining packages. Questions? Comments? Requests? Feedback? Invitations? Email her at kysha@iSCHOP.com, follow her on Twitter and Instagram @SCHOPgirl, on Facebook or chat with her on Instant Messenger at AskSCHOP, Monday-Friday, 6-8 p.m. For even more recipes, tips and food musings subscribe to her blog at www.talkingSCHOP.wordpress.com.