Nelson Mandela: Remembering the man and the Free Mandela/Free South Africa Movement
THE REV. HERBERT DAUGHTRY | 12/13/2013, 2:06 p.m.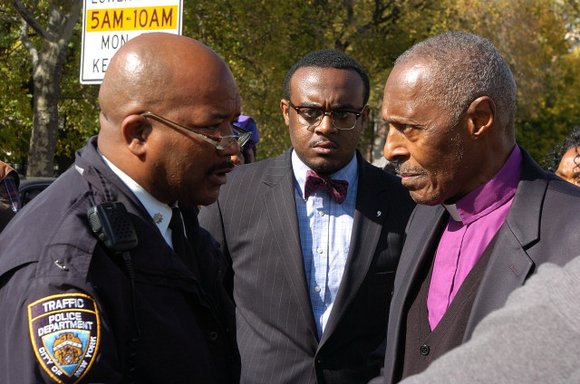 Nelson Mandela and members of the ANC left us a legacy to encourage us that what we visualize, we can actualize.
Gratitude.
Sometimes it seemed that Mandela could not stop expressing appreciation and gratitude for what people had done to free South Africa and him, and to support his leadership. In our private conversation, when I was next to him as he spoke publicly, and from a distance when he spoke publicly, he always, somewhere in his speeches, there would be expressions of appreciation and gratitude. The legacy of appreciation and gratitude will always be a part of his memory.
Those are four areas of his life and, of course, there is so much more about him. Even if we had exhausted our vocabulary, we still would not have expressed the immensity of the man. I suspect, as the years roll by, he will take on even greater mythical remembrance. Like a mountain, the farther away we are from it, the more we appreciate its size.
Mandela knew—and this is what fed his appreciation and gratitude—there had to be some people who kept his name alive; there had to be some people somewhere who were remembering the horrors of South Africa. Yes, there was Winnie Mandela. Not enough has been said about Winnie Mandela's role in the anti-apartheid movement, but she kept her then husband and the cruelties of South Africa ever before the world. She inspired my wife to create a women's organization called Sisters Against South Africa Apartheid (SASSA), which was one of the most effective women's organization in the Free South Africa Movement.
There were activists. Space does not allow me to call all of the names, but surely everyone would agree with me that the name of Elombe Brath would be connected with Mandela and South Africa.
 There were also movements, including the National Black United Front, which I headed; the All African People's Revolutionary Party, which Kwame Toure headed; and the B12 movement, as well as people like Viola Plummer, Omowale Clay, Ron Daniels, Councilman Charles Barron. Elombe Brath. And Clemson Brown and many more.
One of my concerns is that in these times, imposters come to the scene who have done nothing but claim to have done everything. Even those who are enemies are now Mandela's greatest supporters. People who criticized us are now claiming to be a part of the anti-apartheid movement. Thus, those who were in the vanguard, those who were suffered, beaten, chased through the streets of New York and jailed because they boycotted, demonstrated and, in a word, made sacrifices, and put their lives on the line are forgotten or marginalized.
Finally, there were countries that were supportive. It was amusing to the point of being sad that once Mandela was free, he had to respond to people who asked him why he befriended the president of Libya; Yassir Arafat; Fidel Castro; and Russian and Chinese leaders. His response was that these were the people and the countries that supported us, and he could not reject his friends who were there for us in the time of need because other people don't like them, particularly when the other people supported the people in South Africa who had jailed him and who were keeping him jailed. Of course, I am paraphrasing, but that's essentially what he said.
For example, Castro sent Cuban troops to fight the South African troops. Some people said had Castro not sent the troops, Nelson might still be in jail under apartheid rulers.