Statement By David N. Dinkins: President Nelson Mandela Salute
David Dinkins | 12/13/2013, 2:08 p.m.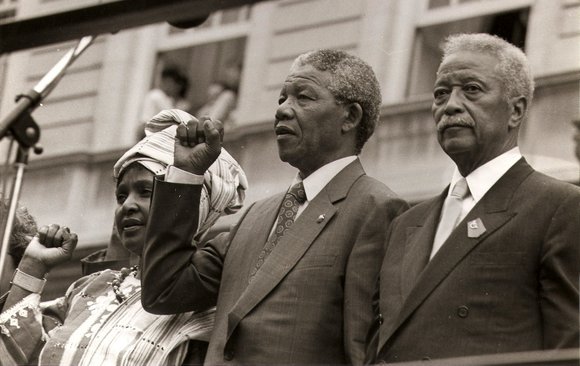 "Death is something inevitable. When a man has done what he considers to be his duty to his people and his country, he can rest in peace. I believe I have made that effort and that is, therefore, why I will sleep for the eternity."
So spoke my friend nearly 20 years before his own death as a lesson to us all to live our lives making the effort and finding the peace he has embraced at last, the rest he has earned, the eternal gratitude of a people and their country, humankind and our world.
Even though his home in Transkei is some distance from here, home is where the heart is, and his heart has circled the globe. Wherever he traveled in his lifetime, he brought us his hope and courage and received, in return, our gratitude, our admiration and our respect.
And we who loved him will soon come together for one reason: to say goodbye to President Mandela and shed tears with those he loved and who loved him best: his children, his grandchildren and that most amazing woman who stood alongside him these past 15 years, Graca Machel.
Perhaps once in a generation a man, a movement and a moment can come together on a mission for freedom that is so powerful, so courageous, so just that all the guns and dogs, hatred and violence, deprivation and force that can be mustered cannot turn them back. It has been our good fortune that this moment came within our lifetimes, and a great blessing that it came in the person of Nelson Mandela.
His release from prison meant much to us, and how sweet that victory was when, after more than 27 years behind bars, he walked out of his cell. He entered that cell a prisoner but exited those walls and stepped onto the world stage a free man, recognized and embraced in every nation as a leader in the global fight for freedom.
New Yorkers were among the first to welcome him as our own personal champion when people of all races and ethnic groups showered him with ticker tape in the Canyon of Heroes this city reserves for the very few. From East New York to East Harlem to the Upper East Side of Manhattan, freedom-loving people lined the streets, four- and five-deep to catch a glimpse as he traveled through the city.
This was an historic time about which we all dreamed, but it was also one for which many gave their last measure. Under the leadership of Mandela, Archbishop Desmond Tutu and his fellow architects of the peaceful reconciliation deserve great credit for the wisdom, courage and foresight that set the new nation on the path to coexistence. Only visionaries such as these—together with many courageous white South Africans—could have conceived of such a revolutionary resolution. This was a victory for all South Africans, a lesson for the world, and causes me to believe that there will yet be peace in the Middle East.