Statement By David N. Dinkins: President Nelson Mandela Salute
David Dinkins | 12/13/2013, 2:08 p.m.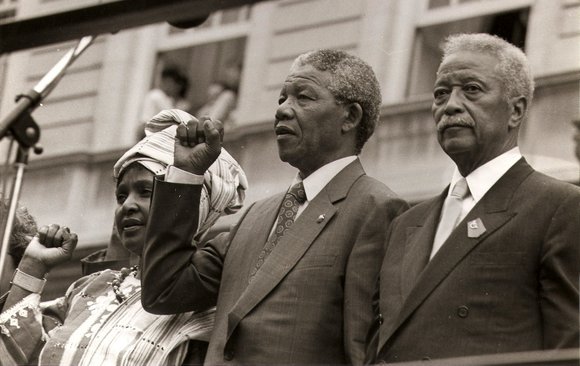 It has been more than 20 years since Joyce and I hosted Mandela at Gracie Mansion, and eight years since we last saw each other at Riverside Church. Nevertheless, as those of you who have had the privilege of spending some time with Madiba over the years can attest, the man was unchanged from one time to the next. He was a constant man whose heart held no bitterness and whose mind sought no revenge. His intentions were clear and consistent, whether at play with my grandchildren or debating Ted Koppel on international television. His heart and mind were set on greater goals: the end of poverty and suffering in this world.
Mandela described the prison of poverty as ranking alongside slavery and apartheid as social evils, and called upon us all to end global poverty, saying: "Overcoming poverty is not a gesture of charity ... it is an act of justice."
Mandela embodied the spirit of nearly a century of struggle, taught the lesson of endurance, extended an open hand to those who recognized the righteousness of reconciliation and a closed fist to those who chose a different course. And now, a world in crisis and thirsty for leaders who value humanity and harmony pauses to recognize this man—this man who was the essence of heroism.
We might be reminded today of the words of the ANC freedom song that pays homage to Chief Luthuli. "We are," it says, "the soldiers of Luthuli. Wherever we may be, we pledge to bear witness to the nobility of our cause." At this moment in history, and as long as there are people who hold dear the principles to which Mandela dedicated his life, we can proudly say: "We are the soldiers of Madiba."
Mandela fought the good fight, he finished his course, he kept the faith and now he can rest. He has left us with so much more than memories—he has left us a rich legacy of his strength, a legacy of his warmth and charm, and a legacy of the great gifts of his courage and wisdom. It is said, my friends, that service to others is the rent we pay for our space on earth. Nelson Mandela departed us paid in full. Let him not look down and find any of us in arrears.