Tata Mandela: rest in perfect peaceful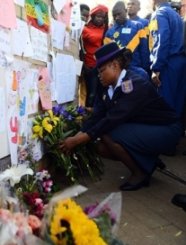 Mandela – though born of tribal royalty – was not having none of it. The lawyer-turned courageous guerrilla fighter launched a campaign first through diplomacy and asking and then through the African National Congress and their determined methods of getting the attention of a tin-eared Afrikaner government. And when Mandela was jailed and sentenced to life in the notorious Robben Island, his wife Winnie Mandela took up the cause; faced the abuse, the threats and intimidation of the violent Afrikaner police force – and for 27 years "mobilized the people and immortalized the name of Nelson Mandela," African Sun Times publisher Chief Chika Onyeani told the Amsterdam News. "People are trying to ignore her contribution, but the African community will not.
"As for me personally, in this outpouring of great tribute to Tata Madiba is the absence of a mention of Winnie, because no matter what happened between the two of them, she was in the forefront for 27 years keeping his name in front of the world media."
"They persecuted him, they jailed him, they manipulated him, and now those same hypocrites are talking heads about how great he was," so slammed activist Caleef Cousar, member of Sonny Abubadika's Committee to honor Black Heroes, "How are his jailers now his biggest cheerleaders? America had him on their terrorist watch list up until 2008. Like Britain, and other European nations – America supported and invested in South Africa. Artists like George Benson, the Commodores and Diana Ross went to Sun City even though South Africans asked them to boycott the place that they were not treated as equals in. Let's not re-invent the reality."
Chika Onyeani added, "As the tributes continue to pour in extolling one of the world's greatest men who ever lived in this world, we as Africans should not forget Tata Madiba Mandela's greatest gift to Africa: his brand of leadership which refused to allow himself to be corrupted by power and enabled him to stay in office for only four years [1994-1999] and handed power to his deputy.  Unfortunately, this is a brand of leadership that too many African leaders are yet to learn, believing that without them their respective countries would not survive, which Mandela demonstrated magnificently is not the case. 
"And for the younger Africans, the most important legacy that they should embrace from Tata Madiba Mandela was his uncompromising use of a killer-instinct and devil-may-care attitude to achieve his goals, which said no matter what happened to me, I am going to take my people to that promised land of liberating them from the yokes of apartheid racism.  When we understand this, we will understand why he was willing to stay in Robben Island for 27 years in that quest of reaching the goal he had set for himself, no matter whether he died in the process."
"I am honored to have encountered Nelson Mandela on several occasions," said Rev. Al Sharpton. "He changed human history and taught activists around the world that in