Tata Mandela: rest in perfect peaceful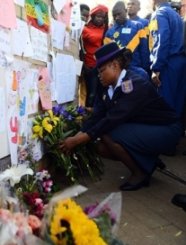 order to legitimately further what is noble, you must actually be a
noble person. Nelson Mandela personified someone that non-violently
changed the course of world history with the democratization of South
Africa. Everything humanly possible that could be done to someone
other than killing them was done to him, yet he maintained his dignity
and his determination. It is almost unthinkable what he endured and
yet forgave. He taught us that you have to keep your eye on the prize,
and that nothing you suffer is as important as the goals that you are
fighting for. He showed us that you can change the course of human
history without lowering yourself to human depravity."
Rev. Daughtry recalled that he was part of the "Welcoming Committee, I was at the John F. Kennedy Airport when Nelson and Winnie Mandela, and members of the African National Congress (ANC) landed at the airport. We had been waiting for hours...then, he stepped on the doorway to the plane. He was smiling broadly in his emendable smile. His fist went into the air, and what we used to call the 'Black Power' sign. I, along with others, went forward to shake his hand. It was dreamlike. At that point in time, we had been on the forefront for over twenty years of the Free South Africa - Free Mandela Movement. We had organized and participated in countless demonstrations, boycotts, rallies, workshops, and civil disobedience.
In 1986, I led the New York's civil disobedience and encouraged my whole family - my wife and four children - to go to jail in front of the South African Mission in Manhattan. And now, the man whose name we had called countless times, there I was, in his presence, shaking his hand."
Acknowledging the likes of former Assemblyman Roger Green at Sunday's memorial at his church, Daughtry said, "We wanted to bring together some of the people who were part of the anti-apartheid movement. We want to talk about where do we go from here."
Reminiscing, Daughtry said he, his wife (Rev. Dr. Karen Smith Daughtry), daughters and son were arrested during the time period when "Free Mandela" was the call, and when South Africans were fighting against apartheid. He also commended his wife for helping to lead the Sisters Against South Africa Apartheid organization with Winnie Mandela and other South African women.
"People should acknowledge his wife, Winnie Mandela, for keeping the movement going when Mandela was in prison," said, Rev. Karen Daughtry.. She spoke of how the Brooklyn women of their church gathered and sent six dumper truck loads of material support to the women of South Africa. Speaking of the determination of the women, she recalled their saying; "Now you have touched the women you have a touched a rock – you have dislodged a boulder – and you will be crushed."
Rev. Daughtry said that one of his most powerful memories is when he learnt that Mandela started writing South Africa's constitution while he was in jail, because he knew they all would be free one day.