Chapeltown, Leeds, UK, pays tribute to Nelson Mandela
Kadesh Anderson | 12/19/2013, 10:30 a.m.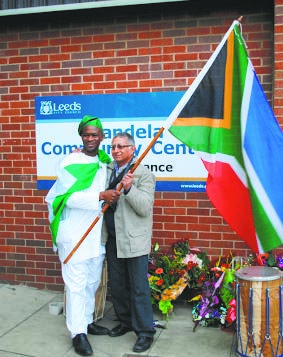 "I have walked that long road to freedom. I have tried not to falter; I have made missteps along the way. But I have discovered the secret that after climbing a great hill, one only finds that there are many more hills to climb. I have taken a moment here to rest, to steal a view of the glorious vista that surrounds me, to look back on the distance I have come. But I can only rest for a moment, for with freedom comes responsibilities, and I dare not linger, for my long walk is not ended." - Nelson Mandela
Thousands gathered in mourning as South Africa's first Black president, Nelson Rolihlahla Mandela, passed away on Dec. 5. The former president died on the same day that the film named after his journey, "Mandela: The Long Walk to Freedom," premiered at Leicester Square, starring Idris Elba, who plays the man himself. The film is based on an autobiography of Mandela and thus was authorized by Madiba himself.
Mandela is by far one of the most influential people in history, as his fight for freedom and anti-apartheid revolution for the people of South Africa led him to being imprisoned for 27 years. After his release in 1990, Mandela would soon become an iconic figure not just in South Africa, but worldwide.
To mark the passing of Mandela, the AmNews conducted an interview with Ezz Witter, the former manager of the Mandela Centre, located in Chapeltown, Leeds, England. After a long talk with Witter, this reporter got an insight into the history of what the Mandela Centre is, as well as its purpose within the community.
Witter explained that he himself was a volunteer at the center, which was formerly known as the Boys Club, a center for youths that ran a course of activities but was soon closed down by local authorities.
"In 1981, the U.K. was gripped by uprisings, in what we would now call 'riots,'" said Witter. "African Caribbean kids rose up against what we saw as police brutality, police harassment, social injustice and lack of opportunity. We, as the heads of the center, became even more radical as an organization and much more knowledgeable about social issues, hence becoming a vocal point, particularly for young people.
"During this time, Nelson Mandela was very much a prisoner in South Africa. He represented the struggles that we were going through, and that's where the name [of the center] came from. We were very clear about what that meant, and we chose him particularly because he was seen by the system at that point as a terrorist and somebody who was raging against the oppressors—and that is how we made the link. In real terms, we brought the notion and the idea of the Mandela Centre to Leeds way before the system became aware of what was going on, which did bring on many problems for us as an organization. We were seen as radical, with minimum support from authorities or even local politicians. We did what we did on our own backs. We raised funds through outer youth club sessions."