Good eats, drinks and outdoor adventures in Fredericksburg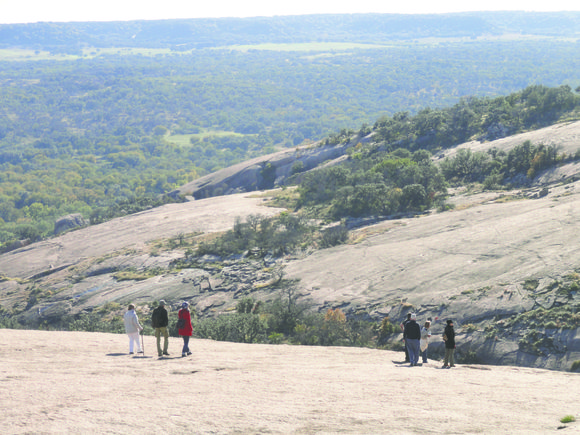 If you've been following along on this adventure in Fredericksburg, Texas, you know that there are a myriad of distinctive and memorable places and things to enjoy here, including historical exploration, artistic endeavors and shopping.
But I'll bet you didn't know that the region has quite a reputation for wonderful accommodations, fantastic culinary adventures, great beer and wine exploration, and exciting recreational spots. Here's just a smattering of each to help you understand why I love Fredericksburg.
Be our guest:
Fredericksburg is home to 385 bed and breakfast inns and guesthouses, and 1,100 hotel and motel rooms within the county—everything from single-bedroom rentals in private homes to rustic cabins, apartments and complexes encompassing numerous historic homes, and many within walking distance of the main drag, Main Street. A very popular aspect is entire home rentals, allowing families on reunions, girlfriends on getaways and the like to enjoy their own private oasis when not out and about town.
I stayed at the Inn on Barons Creek, a very comfortable all-suite hotel set on a beautiful expanse of rolling green space along Barons Creek with an outdoor pool, Jacuzzi and separate spa facility offering an array of massages, body and facial treatments, and nail and waxing services.
Some of my other travel companions stayed at the Fredericksburg Inn & Suites, Bella Sera, Wild Sage Barn, Cotton Gin Village Cabins, Palo Alto Creek Farm, Diamond Belle and the Hangar Hotel.
Feed Me!:
For foodies like me, Fredericksburg possesses an amazing culinary scene, offering everything from mom-and-pop comfort food to high-end fare—and I tried lots of it!. It would be difficult to pick out a favorite or to leave out other worthy options just because there's not enough space here, but I do have several honorable mentions just to get your mouth watering.
I had one of the most amazing meals of my life at the Fredericksburg Herb Farm, which, in addition to serving farm fresh-inspired meals using fruit, vegetables and herbs from their own gardens, also encompasses a handful of private stay cottages and a jaw-dropping 5,000-square-foot spa. I'm also in love with Peach Tree Restaurant & Gifts, featuring fresh homemade breads, soups, salads, sandwiches and desserts; the Ausländer Restaurant and Biergarten for the finest in authentic German cuisine; August E's, an exceptional fine dining experiencing focusing on innovative Nouveau Texas cuisine and traditional continental menus; and Bejas Grill for delicious Southwestern fare with a twist, just to name a few.
Brews and Vines:
A wonderful way to complement any great meal is to pair it with a pint of beer or glass of wine from any of the region's popular breweries and wineries, some of which have won awards. (Many of them also have tasting rooms and/or restaurants in town.) Options include the Fredericksburg Brewing Company, the oldest and most acclaimed brewpub in Texas, and craft brewery Pedernales Brewing Company.
Most people don't know that the Texas Hill Country is one of the fastest-growing wine destinations in the country, encompassing three viticulture areas, with 14 wineries located in and around the city and county, and offering numerous self-guided and guided wine tours and events year-round. One way to explore them is along Wine Road 290 Fredericksburg, a 45-mile stretch of U.S. Highway 290 and "the second most visited wine region in the United States, second only to Napa Valley," according to Orbitz Travel. You can also check out over 35 unique and visually stunning Texas Hill Country wineries, which are scattered throughout the hill country and a little further afield.