Good eats, drinks and outdoor adventures in Fredericksburg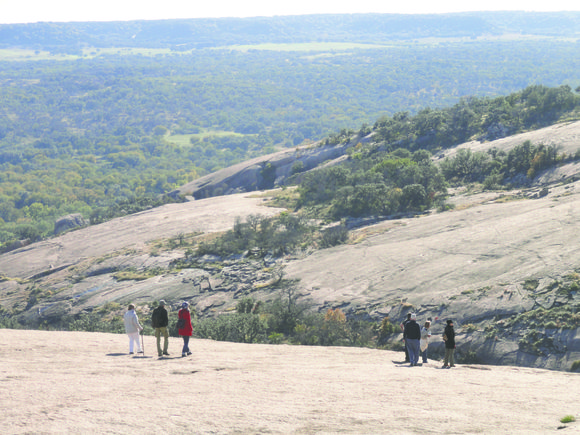 Fredericksburg "Al Fresco"
Outdoor enthusiasts will find a wealth of options in the Fredericksburg area, such as the Lady Bird Johnson Municipal Park, Old Tunnel State Park/Bat Cave, horseback riding facilities like Quiet Hill Ranch (for children only) and Circle K Trailrides, and mountain biking options at Hill Country State Natural Area.
But you absolutely cannot miss Enchanted Rock State Natural Area. A favorite for primitive backpacking, camping, technical rock climbing, picnicking, geological study, bird watching, star gazing and hiking, Enchanted Rock is the second largest granite dome in the U.S., right behind Stone Mountain in Georgia. Yes! Right in the middle of Texas!
Located 18 miles north of town, the area was originally inhabited by the Native Americans and thought to have been formed 1 billion years ago from a volcano outcrop. What you find today is a stunning and totally unexpected natural wonder rising 425 feet above ground, 1,825 feet above sea level and covering 640 acres, punctuated by beautiful, distinctive pink granite rock formations, grassland pools, Texas shrubs, four major plant communities, and a plethora of bird and wildlife, including white-tailed deer, armadillos, lizards and more.
The topography here is absolutely breathtaking, and walkers or hikers have the option of trails of varying difficulties to suit visitors of all ages and physical fitness. We spent several hours here and could have stayed all day, it was so captivating. And one would never imagine such beautiful vistas and geological diversity could be found in this part of the state.
If you haven't guessed by now, Fredericksburg is definitely one of my favorite spots in the country, and one that you just have to experience to believe.
Lysa Allman-Baldwin writes for numerous online and print publications, including as the cultural travel writer for www.Examiner.com and as a senior travel writer for SoulOfAmerica.com, an Afrocentric travel website. Lysa can be reached at lallmanbaldwin@kc.rr.com.
Resource List:
August E's: 830-997-1585, www.august-es.com
Bejas Grill: 830-997-5226, www.bejasgrill.com
Enchanted Rock State Natural Area: 830-685-3636, www.tpwd.state.tx.us
Fredericksburg Brewing Company: 830-997-1646, www.yourbrewery.com
Fredericksburg Convention & Visitor Bureau: 888-997-3600, 830-997-6523, www.VisitFredericksburgTX.com
Fredericksburg Herb Farm: 830-997-8615, www.fredericksburgherbfarm.com
Hill Country State Natural Area: www.cycletexas.com, www.texasvelo.com
Inn on Barons Creek: 866-990-0202, www.innonbaronscreek.com
Lady Bird Johnson Municipal Park: 830-997-4202, www.fbgtx.org/departments/ladybirdpark.htm
Old Tunnel State Park/Bat Cave: 866-978-2287
Peach Tree Restaurant & Gifts: 830-997-9527, http://peach-tree.com/
Pedernales Brewing Company: 830-998-7486, www.pedernalesbrewing.com
The Ausländer Restaurant and Biergarten: 830-997-7714, www.theauslander.com
Texas Hill Country: www.hill-country-visitor.com, www.texashillcountry.com
Texas Hill Country Wineries: 872-216-9463, www.texaswinetrail.com
Wine Road 290 Fredericksburg: 872-216-9463, www.wineroad290.com.