Mandela's ubuntu is over the rainbow
Herb Boyd | 12/19/2013, 2:19 p.m.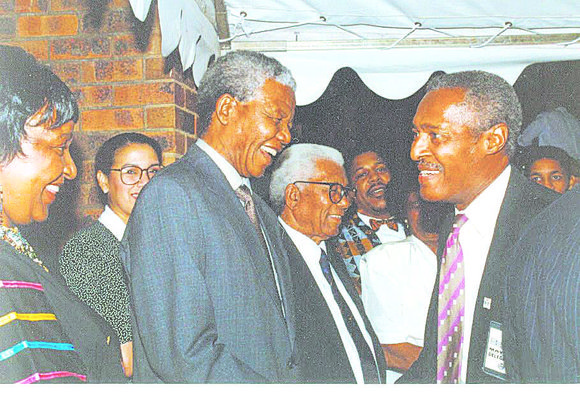 Ubuntu, a word of Nguni origin that speaks of collectiveness and humanity, will get renewed usage since it was invoked in President Barack Obama's tribute to Nelson Mandela during memorial services for the fallen freedom fighter last week in Johannesburg, South Africa.
It's hard for one word to capture the full essence of Mandela's majesty, but ubuntu comes about as close as any, and it's all about generosity and respect for each other, Mandela once explained—attributes inseparably connected with his legacy.
While it may be too soon to talk about the pressing realities in South Africa today as the world says goodbye to the iconic leader—and few encomiums will match Obama's when he said, "After this great liberator is laid to rest, when we have returned to our cities and villages, and rejoined our daily routines, let us search then for his strength—for his largeness of spirit—somewhere inside ourselves"—his legacy is by no means sullied.
Most South Africans will retain Mandela's memory and efforts to change their miserable conditions and the increasing disparities with an understanding that he did his best. But when you're struggling to survive on $2 a day, as too many South Africans are, memories can mean only so much and carry you only so far. Much like the circumstances that exist on race relations here in America, segregation in South Africa is more pervasive than it was a generation ago under the draconian apartheid system.
Among the demands often heard from South Africans still mired in the muck of economic and cultural despair are equal opportunity, equal pay, a decent wage and a more participatory democracy. Add to this affordable housing, health care and any kind of well-paying job, and the situation in South Africa mirrors conditions faced by many Americans. The end of so-called American apartheid, that is, Jim Crow, has not brought about the dramatic changes anticipated by those on the bottom, and the disparities that exist in South Africa, particularly for the historically downtrodden, show few signs of closing the gaps.
In effect, the political and economic circumstances in South Africa and for the poor and the working poor in America are limited by the same global capitalism that is relentlessly predatory no matter where you live on the planet.
Madiba has departed, and what remains is an unfinished mission he often termed as a quest for a rainbow society, much in the manner of Mayor David Dinkins' vision of a "gorgeous mosaic" when describing New York City. One of the difficulties that confronted Mandela was making real some of the proposals he envisioned during his early years as a member and leader of the African National Congress (ANC), especially the notion of nationalizing various industries, and none more lucrative than the mines.
But that plan had to be scuttled in view of the pressing realities in his nation, to say nothing of the multinational corporations that ruled the economy. After a round of discussion with his advisers and trips abroad, Mandela realized that conceding to a capitalist mandate and surrendering to the imperialism of the World Bank, the International Monetary Fund and the U.S. power-brokers was inescapable.