York, a slave and a pioneer in opening the West
Herb Boyd | 12/19/2013, 2:54 p.m.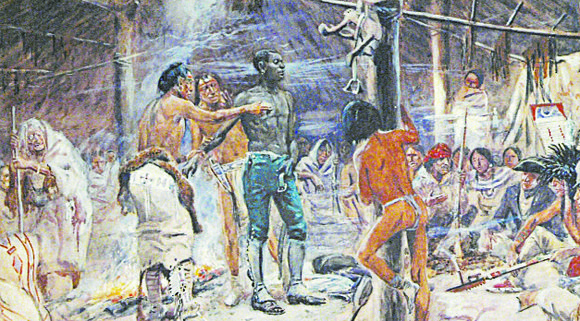 In 1832, a year after York's death, the great writer Washington Irving, of "Sleepy Hollow" fame, interviewed Clark, who told him that he had freed York. But the long dependency adversely affected York and he, according to some reports, yearned to return to serve Clark, and there is some dispute about the accuracy of Clark's account of York's later years.
According to another writer, Zenas Leonard, he encountered a Black man living among the Crow Indians in 1834. The man told Leonard that he had been living in the Indian village since his days traveling with Lewis and Clark. He said he returned to Missouri with the expedition and then came back to live among the Crow. Leonard seemed convinced that this man was York given his knowledge of languages and the chronology of his narrative.
Katz's summary on York's liberation adds that he was given "a wagon and six horses. With these, he ran a transportation business between Nashville and Richmond. But the explorer saw his business go from bad to worse, and York eventually died of cholera."
There are few monuments in honor of York and at least two statues capturing his magnificent physique. One of them by sculptor Ed Hamilton can be found in Louisville at the Plaza near the Ohio River. A similar likeness of him overlooks the campus, appropriately, at Lewis and Clark College in Portland, Ore. Other than some paintings depicting him in various settings among Indians, there is no true image of York's face. Even so, he has been immortalized in an opera by composer Bruce Trinkley and librettist Jason Chamesky. In Broadwater County, Mont., a group of islands are called York's Islands and may have been named after him.
York was posthumously granted the rank of honorary sergeant in the United States Army by President Bill Clinton in 2001. Among several books written to commemorate his contribution to the founding of the west is "Buffalo Dance: The Journey of York," a book of poetry by Frank X. Walker in 2004, published by the University of Kentucky Press.