Holiday Toy Drive Donates To Urban Resource Institute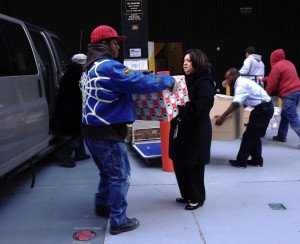 'Tis the season for giving.
Banco Bilbao Vizcaya Argentaria New York, a customer-centric global financial services group, started a new toy drive program in November called Project Blue Elf using donations and volunteers from the company.
"BBVA Compass created Project Blue Elf to brighten the holidays for children, especially those facing difficult situations like the young residents of URI's domestic violence shelter," said BBVA Compass Corporate Responsibility and Reputation Director Reymundo Ocañas in the press release.
BBVA New York's Project Blue Elf initiative donated toys to 60 children at one of the Urban Resource Institutes domestic violence shelters in New York City. During the event, 13 bank volunteers helped children from ages three to 17 decorate holiday cookies.
"Our team feels so fortunate to be part of these children's holiday celebration," said Paloma Tejada, Director of Human Resources at BBVA New York in the press release. "As excited as the kids were to open their presents and participate in the holiday activities, our wonderful volunteers were just as happy to get involved and spend time with them."
To join in the Project Blue Elf initiative, share the online version of the bank's holiday card at bbvacompass.com/happyholidays.