Dogs, forks, New York and cruises—great travel reads to delight and inspire
Although the weather has finally turned cold, and you may not be out and about as much, you can still do a little traveling, albeit from a comfy chair with a hot drink and a great book. I can help you out with the latter, offering these worthy reads to satisfy your armchair wanderlust and maybe inspire you to plan your own unique travel adventures.
Have dog, will travel
Although I am not currently a dog owner, I love dogs. But I have to admit that packing "Fifi" up with my toiletries, shoes and passport would probably never surface in my realm of consciousness.
But in "Dog Trots Globe—To Paris and Provence (A Sheltie Goes to France)," author Sheron Long, with the help of her beloved Sheltie, Chula, uses France as a vehicle to empower dog owners to experience the joy of bringing their faithful companion on their next vacation.
The book, part travelogue and part dog memoir, shares the joys and misadventures they have by combining a modicum of text with vibrant color photographs and clever illustrations designed to entice readers to fall in love with France.
www.amazon.com/Dog-Trots-Globe-Provence-Sheltie/dp/1936951002
Food is so much more than a meal
I barely got past the title "A Fork in the Road" before I knew that I just had to devour it!
For a wanderlusting girl like me who is also a foodie at heart, this book—a collection of 34 original stories by the world's most acclaimed chefs, food writers and novelists focusing on how travel and eating combine to shape and inspire our lives—cuts straight to my heart and soul.
Of the essays in the book, editor James Oseland says, "Each of them says something ineffable about how we process and remember tastes and sensations, and about how they alter our view of the world. The stories encompass a vast mosaic of experience—from bitter, to sweet, to everything in between—and an equally vast range of voices. Some are rough, some are intensely refined. But they all have one thing in common: They chronicle food and eating in a deeply personal way." Aaaah! He had me at "tastes and sensations."
Although a petite, almost pocketbook-size book, "A Fork in the Road" is chock full of life-changing culinary adventures inextricably linked to the way we view travel.
www.amazon.com/Lonely-Planet-Fork-Travel-Literature/dp/1743218443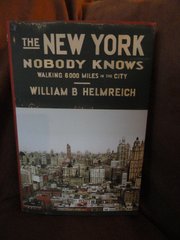 Another side of New York
I'm a big fan of traveling somewhere new in your own backyard, as it's so easy within the rigors of everyday life to get trapped within the confines of a X-mile radius of our homes.
Well, William B. Helmreich, "A life-long New Yorker," took that close-to-home travel concept one step further, going on adventures that would become the stories he writes about in "The New York Nobody Knows: Walking 6,000 Miles in the City."
Who knew that a childhood game called "Last Stop" that he would play at age 9—which involved his literally taking a subway to the last stop and exploring the area on foot—would spark a life-long love of the hidden corners of the five boroughs? According to Helmreich, "Four years + seven pairs of shoes + 6,000 miles = an epic journey in New York City."