Grant to re-start farm production in Somalia seeks help from the diaspora
2/6/2013, 10:45 a.m.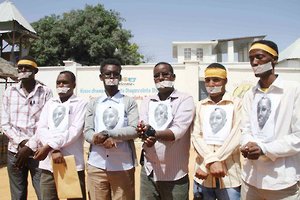 Feb. 5 (GIN) - Efforts to rebuild Somalia may get a boost from the International Fund for Agriculture Development which is offering start up grants for innovative projects to the Diasporic community. But the detention of a journalist and the conviction of a woman alleging rape is giving the country a black eye.
Amounts ranging from 20,000 dollars to 100,000 dollars will be handed out for such projects such as cross-border investment in agriculture, food security and rural employment. "We must harness this often-times invisible investment in agriculture, particularly in post-conflict countries and fragile states," said Kanayo F. Nwanze, IFAD head.
The initiative is called "Rebuilding Somalia through the Diaspora Investment in Agriculture" and works with the Somali government and the U.S. Department of State's International Diaspora Engagement Alliance.
The new program will leverage more than one billion dollars sent home by Somalis annually.
Meanwhile, civil liberties groups are angered by the conviction of a woman who alleged she was raped by security forces. A journalist who interviewed her was also sentenced. The convictions appear to be based on newly added charges to Somalia's penal code under Sharia. The woman received a sentence of one year for "damaging state security" which was deferred because she is breastfeeding.
The groups calling for overturning the convictions and freeing the journalist are the National Union of Somali Journalists, Sister Somalia, Human Rights Watch, Amnesty International, and the Committee to Protect Journalists.