This Little Piggy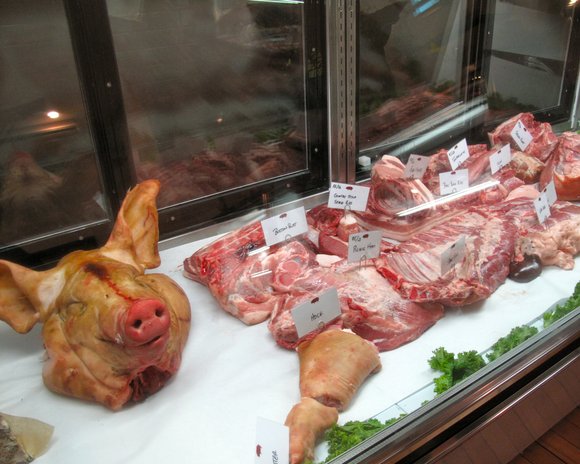 The year 2013 marks a culinary milestone: The fifth anniversary of Cochon 555, a one-of-a-kind traveling culinary competition and tasting event created to promote sustainable farming of heritage breed pigs. Kicking off on Sunday, February 10 in New York City with an all-female line-up of chefs, the pork-centric tour gathers together five chefs, five pigs and five wineries at each event, ultimately touching down in 10 cities across the country and bringing its message of nose-to-tail cooking, breed diversity and family farming to food enthusiasts nationwide.
Guests will be treated to an epic pork feast alongside wines from five small family-owned wineries plus special tastings from celebrated food and beverage producers (including a special tasting with Cypress Grove and Anchor Brewing, Rhone Valley Wines, Anchor Distillery, Vibrant Rioja and Robert Kacher Selections). Twenty judges and 400 guests help decide the winning chef, who is crowned the Princess of Porc and will compete against other regional winners at the finale Grand Cochon event at the FOOD & WINE Classic in Aspen on Sunday, June 16.
Also included in the evening is a preview of the new Heritage BBQ event in which Chef SUE TORRES of Suenos will roll out family meal - another whole pig cooked barbecue-style immediately preceding the awards.
The fun continues with a butcher demonstration from Sara Bigelow of The Meat Hook and a raffle to benefit the student volunteers of the Culinary Institute of America, ice-cold brews, Champagne toast, award ceremony, Fernet Branca digestifs, pork-spiked desserts, and cold-brewed coffee, and the after-party will immediately follow at Resto with drink specials.
It all goes down at Chelsea Piers (West 23rd Street & Hudson River), New York City this Sunday, February 10, at 5 pm (for general admission). Tickets are $125. For more information and to purchase tickets, visit www.cochon555.com.