Black Opal loves your colorful face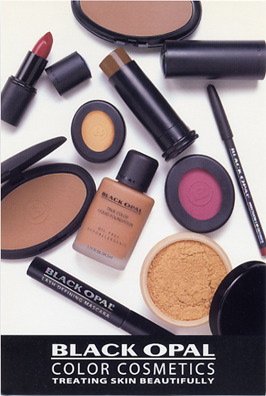 Frank, I've never looked so good and effortless in my life, and my skin is baby-butt smooth. The complete cover stick is $10 dollars. My previous brand was $45 plus tax.
Ouch. Your skin is enjoying the Skin Tone True formula, which consists of a synergistic blend of brightening encapsulated peptides, licorice and turmeric extracts and glucosamine. This improves clarity and promotes an even-toned complexion. Multi-mineral complex and vitamins C and E also help to provide antioxidant to protect from free radicals.
Say, what--what--what now? That's fancy dermatology jargon. Keep it simple, please.
You are fun. OK, women today are looking for foundations that moisturize, hydrate and condition the skin in a light formula with maximum coverage, so that's what we created and delivered.
I didn't try everything. Your PR company sent the samples of the Even True full coverage and lipsticks, and all of the women that I shared with loved them and are raving too. What did I miss in round one?
Along with Even True's eight shades are six shades of concealer and brightening under-eye concealer. These range from the whitest of skin tone to the complex dark complexions.
Handsome, yes you are. Your parents deserve a standing ovation. What is your story? Why beauty, beautiful?
At 16, I was recruited to model, moved to New York and I started traveling the world: Milan, Paris, London, Germany and South Africa. I saw, first-hand, the human color wheel. Plus, I am passionate about painting, sculpture, architecture and light.
I tried advertising, in 2003 for a minute, and was approached to join the team at Scott Barnes Beauty. Here is where I learned product development and the inside world of makeup as taught by legendary makeup artist Scott Barnes.
He saw something in me and convinced me to study the art of makeup.
I do what I love every day, enjoying editorial, film and television work with segments on "Good Morning America," the "Today" show, CNN, etc.
Plus, the added bonus is that I work with extraordinary women.
You love women. To me, it's clear. What do you love about women?
Thank you. That's a great question. The world needs the balance of feminine energy. For me, women are mysterious, loyal and radiant nurturers.
In my role as Black Opal's artistic director and brand ambassador, if I can help amplify someone's natural beauty, bring out her best qualities and help her project who she wants to be--mission accomplished!
Black Opal's products are hypoallergenic, paraben-free, fragrance-free, oil-free and dermatologist-approved, and are available by visiting www.blackopalbeauty.com, Walmart, CVS/Pharmacy, Rite Aid, Duane Reade and OTC Stores nationwide.