Thousands attend service for former Mayor Ed Koch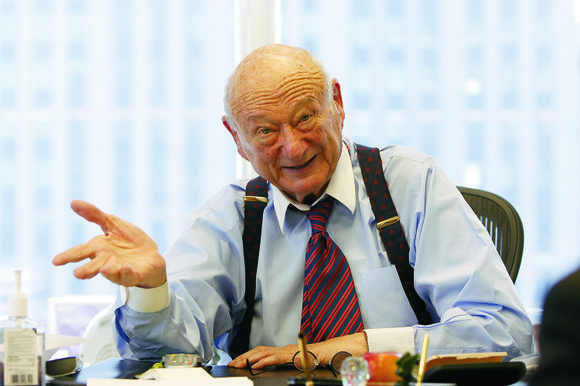 Born in the Bronx on Dec. 12, 1924, Koch was the son of Polish immigrants. For two years, he attended City College but dropped out to join the Army, where he served for three years. Upon his return to civilian life, he earned a law degree from New York University in 1948.
His long political career evolved out of his membership and ultimate leadership of the Village Independent Democrats, where he first met Tatum. After a brief stint as a City Council member from 1966 to 1968, he was elected to Congress five times, representing the East Side of Manhattan, not far from Temple Emanu-El, Bloomberg reminded listeners.
Then came his three terms as mayor of New York City, virtually putting his individual stamp on the city after rescuing it from a financial crisis.
While several speakers noted his contribution to the desperate housing situation in the city when he assumed office, others remembered that it was under his stewardship that landlords ran amuck with their warehousing schemes. And many activists will remember him only as the point man in the white backlash that came on the wings of his mayoral victory.
To stay in office for three terms, Koch obviously recognized the expediency of modifying his liberal outlook that got him into office. According to Basil Wilson and Charles Green in their highly informative "," Koch used the Forest Hills incident, where a low-income housing project was planned that would have, in his judgment, dismantled the Jewish community, to begin shredding his liberal credentials. "He emerged as the leader of the white backlash movement frightened by the changing racial makeup of the city," the authors wrote.
Even so, there were significant Black leaders who, though admitting their mixed emotions about Koch, nonetheless offered praise for his love and commitment to the city, such as Rep. Charles Rangel and Sen. Bill Perkins. On Tuesday, in keeping with Koch's Jewish beliefs, the family and others will sit Shiva. He was buried at Trinity Church Cemetery in northern Manhattan.