1199 members share joy of inauguration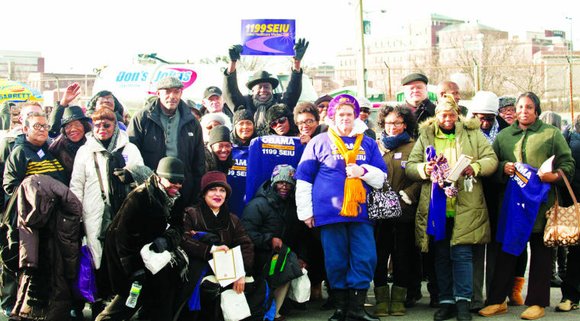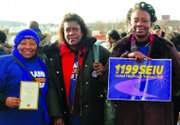 Members from what Martin Luther King Jr. called his favorite union traveled to Washington, D.C., to witness history once again. Dozens of delegates from 1199 SEIU United Healthcare Workers East attended the second inauguration of President Barack Obama earlier thanks to the union's Martin Luther King Jr. Political Action Fund.
Union members worked during the re-election of the president. In July, 1199ers boarded buses for weekend trips to swing states, including Pennsylvania and Virginia, to register new voters and inform people about the high stakes in the coming elections. As a reward for working hard during the campaign and getting PAC members, those who were able to get the most people to join were able to go to the inauguration.
The law prohibits unions from using money from dues to fund political campaigns. Therefore, unions establish their own political action committees (PACs) to raise necessary funds specifically earmarked for elections.
"Our Political Action Fund is the single most powerful tool at the union's disposal," said 1199SEIU President George Gresham. "It allows us to elect health care allies, negotiate strong contracts with fair wages and fight for continued health care funding."
The group that went to Washington came from various age groups. Members gathered at the 1199 headquarters early on Tuesday. Those who went were given official invitations from the White House to attend the inauguration.
Betel Manjura, who serves as deputy director for 1199's political action department, said that union members, from retirees to young members, went on the trip. She said that the goal was to get members to mobilize and that union members who volunteered their time made a personal investment.
"We have a vision for the community," Manjura said. "Our members want to ensure that working families have an equal playing field. Going to the inauguration was celebration of the hard work they did and looking toward the future.
Several members on the trip said that while they went to the first inauguration, they said they were thrilled to be a part of history once again, watching Obama be sworn in for a second time. Reports indicate that over a million people attended this year's inauguration with as much energy as they had in 2009, braving cold temperatures.
"It was truly inspiring and I'm glad that I went," said one member. "I wanted to see my president on his second ingratiation, and to have it happen on Martin Luther King Day was wonderful."
Members stayed for the entire inauguration ceremony and speech from Obama before heading back home.
On Monday, 1199 SEIU also hosted inaugural galas across the state in Buffalo, Rochester and Syracuse. The galas were celebrations for their numerous political victories, including the re-election of Obama.
"We have a lot of work that we need to accomplish this year, so it would be nice to have a little fun before we get back to it," said Vena Person, a delegate at the Jewish Home of Central New York. "With corporations dumping so much money into elections, I'm happy to say that the power of the people won this election. Good old hard work and purple power got the job done this time."