Low-wage workers let their voice be heard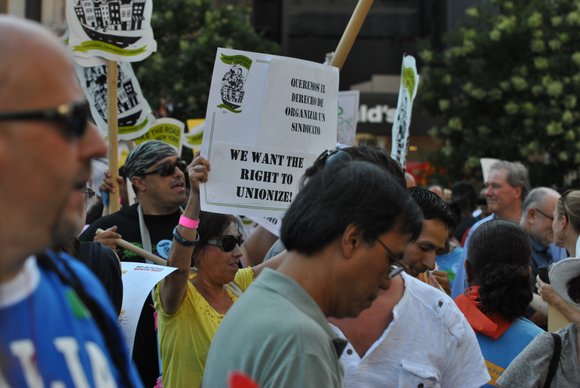 Albany has also gotten into the low-wage conversation with a recently released report on minimum wage in New York by the New York State Democratic Conference. According to the report, at today's rate of $7.25 per hour, it would take a rate increase of $3.60, or 49.7 percent, to restore the purchasing power of the state's minimum wage to its 1970 level.
"Though neither of the bills introduced in the Legislature this year come close to a full restoration of the minimum wage's peak buying power, either measure would go a long way to restoring the dignity and self-worth of our lowest-paid workers," read the executive summary of the report. "Legislation introduced by Senator Espaillat would increase the rate to $8.50 in 2013, $9.25 in 2014 and link it annually to a regional Consumer Price Index (CPI) thereafter. Assembly Speaker Silver's bill, which is sponsored by Senator Klein in the Senate, would increase the rate to $8.50 in 2013 and link it to the CPI thereafter."
New York State Sen. John Sampson said this report serves as a wakeup call.
"Today's report expands on what the Senate Democratic Conference has consistently said over the past legislative session. Our state needs a higher minimum wage and our economy will improve once New Yorkers are better compensated for their hard work," said Sampson. "I urge my Republican colleagues to end their pandering to special interest campaign donors and instead listen to the experts, small-business owners, minimum wage earners and the state's residents and join the Democratic Conference to bipartisanly increase the minimum wage."