Travels To Washington, D.C.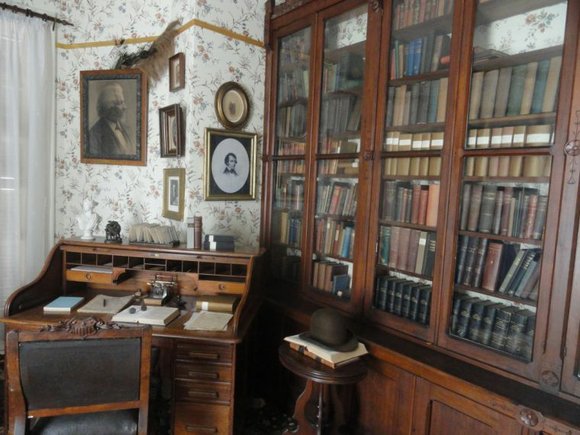 Today, there is a wealth of places to learn more about and enjoy D.C.'s Black history and culture. A great way to start is with the city's African-American Heritage Trail Guide, offering insights and information on almost 100 historic sites and attractions in and around the D.C. area.
One that we enjoyed the most was the Frederick Douglass National Historic Site, located in the primarily African-American Anacostia neighborhood--one of D.C.'s first Black suburbs. The home is situated high above the street with panoramic views of the area on a nine-plus-acre property on Cedar Hill, which he so named because of the large number of cedar trees.
A visit here starts at the Visitors Center with an opening film about his life and work, a wall of quotes from his many speeches and writings, a life-sized bust, and bookstore.
The guided tour goes through every aspect of the home originally built (he was not the first owner) between 1855 and 1859, each room and area detailing a different aspect of his professional, home and family life--including that which he enjoyed with his first wife, a Black woman named Anna, and his second, a white woman named Helen, who was his secretary prior to their marriage.
It's interesting to note it was Helen who, after Douglass' death, was determined that his legacy continue. Therefore she worked tirelessly to support the continuance of his life's work, including founding the Frederick Douglass Memorial and Historical Association to which she deeded the property and their belongings in perpetuity. The depth of history here is vast, the insights offered on the tour are amazing and a visit, if one is in the area, is a must.
While in the "U" Street district of town, stop by the African-American Civil War Memorial, designed to honor the many Black soldiers who fought for freedom during the American Civil War. The memorial encompasses a Wall of Honor with 166 plaques featuring the names of the over 209,000 men then-classified as U.S. Colored Troops who served.
The plaques partially surround the centerpiece sculpture--a poignant bronze work named the "Spirit of Freedom," by noted African-American sculptor Ed Dwight, of a sailor and uniformed soldiers as the prominent feature--a family whose liberty is being honored and protected at the rear. Together, the memorial elements symbolize the struggle for, and dedication to achieving, freedom for all.
Roughly bounded by Elm Street, Rhode Island and Florida Avenues, 2nd Street and Howard University, the LeDroit Park Historic District was originally built as an exclusively white residential area in the 1870s, so much so that the subdivision was demarcated by a fence and entrance guards. However, the African-American community embraced civil disobedience and took action, tearing down the fence and integrating the neighborhood one home at a time. Eventually, all of the whites moved out.
Notable Blacks who lived there back in the day include Paul Lawrence Dunbar, Dr. Anna J. Cooper, General Benjamin Davis, violinist Clarence Cameron White, Robert A. Terrell and Mary Church Terrell, just to name a few. Although only approximately 50 of the original 64 homes remain and are privately owned, the district is still a significant piece of Black history here.
Artistic talent by Blacks is on display at the African American Art Collection at the Howard University Gallery of Art, featuring the works of numerous renowned artists of color, in addition to an extensive collection of European prints, Baroque and Renaissance paintings and other works.
Other worthy African-American related sites and attractions in and around town include the Will Marion Cook Family Residence, Freedmen's Hospital, the Andrew Hilyer Residence, the Merriweather Home for Children, the Baker's Dozen Inc. Building and the John Mercer Langston Residence.
Next up, we're delving more into the wonders of Washington, D.C.
Resource List
African-American Art Collection at Howard University Gallery of Art www.culturaltourismdc.org/things-do-see/howard-university-gallery-art-african-american-heritage-trail
African-American Civil War Memorial 202-667-2667, www.afroamcivilwar.org
African American Heritage Trail 202-661-7581, www.culturaltourismdc.org/
Frederick Douglass National Historic Site 202-426-5961, www.nps.gov/frdo
The LeDroit Park Historic District www.nps.gov/nr/travel/wash/dc65.htm
Washington, D.C. Convention and Visitors Bureau 800-422-8644, 202-789-7000, http://washington.org
Lysa Allman-Baldwin writes for numerous online and print publications including as the Cultural Travel Writer for www.Examiner.com, and as a Senior Travel Writer for SoulOfAmerica.com, an Afrocentric travel website. Lysa can be reached at lallmanbaldwin@kc.rr.com.