Passion of the pork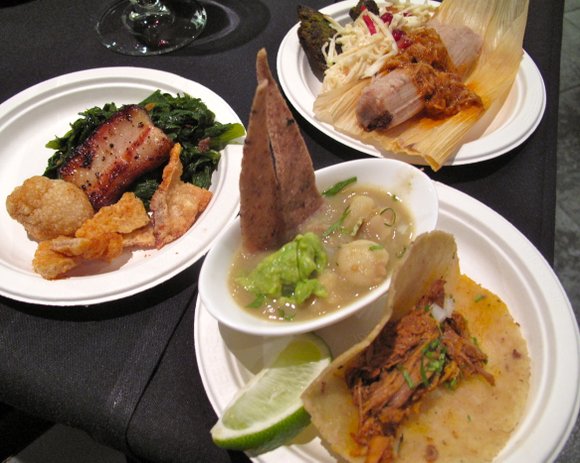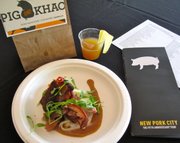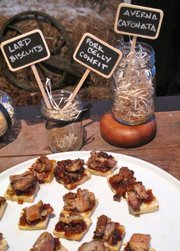 A couple of Sundays back, I had the pleasure of attending Cochon 555 at Chelsea Piers for a 10-city culinary competition and tasting that felt like a family affair. As if requested by the gods, the sun was just starting its nightly ritual, painting the sky full of colors and evoking our senses to rise up and meet the moment. Five chefs, five heritage pigs and five wineries were at the ready. I took it all in.
Each of the women in the all-female chef lineup received a different whole heritage animal with which to have their way, from snout to tail. And these aren't just any female chefs--they are accomplished and inventive chefs who transform ingredients to food nirvana.
After enjoying the last sustainable oyster from Rappahannock River, my first bite came by way of "Top Chef" contestant Chef Leah Cohen of restaurant Pig & Khao (www.pigandkhao.com). Her pig was a Large Black. Sounds like a mean son of a gun, but its type has been bred and perfected by farmers for more than a century. Cohen gave an Asian sensation of five-spice cracklings served in a paper bag, a tangy sausage with rice and crispy pata (pork leg with pickled green mango). All were so good that I couldn't imagine the magic from the other chefs.
I moved on to Chef Missy Robbins of A Voce, who was perched in the corner with the Hudson River behind her and her team. She took her coveted Berkshire pig to task with six tastings that literally went from the head, Testa (pig's head terrine), to the feet, Stufato, and everywhere in between. The meatballs were moist and packed with flavor. I enjoyed her version of ham and eggs made with prosciutto, black truffles and fontina and her version of liver and onions with a caramelized cippoline, dried grapes and balsamic.
Chef Shanna Pacifico of Back Forty West was next on my hit list. She took her Tamworth pig from Brambly Farms Massachusetts and served up a Brazilian feast starring a porky good feijoada (slow-cooked stew with various cuts of pork), pao de queijo (cheese bread) and a pork belly (Tamworth's best feature) lettuce wrap. Obrigada, Chef Pacifico!
As if by magic, the walls parted for the last two competing chefs. Chef Alex Guarnaschelli of Butter and Chef Elizabeth Falkner of Krescendo squared off on either sides of the room. Between them stood a bourbon bar featuring five bourbons to celebrate five years of Cochon 555. I'm not really a bourbon drinker, but being served in a mason jar with some macerated black cherries made it go down easy.
Guarnaschelli went Asian with her Old Spot-Duroc Cross (a.k.a. Spot Roc). There was a soup dumpling and seared pork belly, but the real palate-pows were the noodle dish made of the skin and the sweet-and-savory gelatin cubes made of pork renderings and lychee puree lightly dusted with sugar. I see you, chef! Doin' it!
Falkner would not be outdone with her Red Wattle pig from Lazy S. Farm in Kansas. If there were an award just for cracklings, she would have gotten my vote (take note, Brady Lowe) for the creatively spiced addictive bites. She also served up black rye pasta with pork ragu and pork belly confit over a lard biscuit.