Amsterdam News 2012 Year in review: January to June
1/2/2013, 5:08 p.m.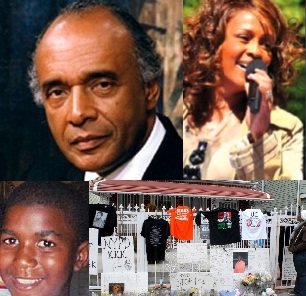 January
As the year begins, concerns are raised over new voter ID laws in some states that threaten to block Blacks and other groups from polls during the presidential election.
The Department of Education and the United Federation of Teachers can't agree on how to evaluate teachers' performance, leading to $60 million of federal funds being lost.
Now in the second year of his first term as New York state governor, Andrew Cuomo unveils a $25 billion economic blueprint for New York during his State of the State address.
As efforts continue to bring more diversity to the New York City Fire Department, members from the Vulcan Society go door to door to follow up with applicants who applied to be firefighters.
Republicans in Washington aim to cut $900 million to Pell Grants, which 50 percent of Black college students use to pay for college.
Black CNN anchor T.J. Holmes announces he is leaving the news network to work for BET.
Judge Robert L. Carter passes at age 94.
Two years since the earthquake in Haiti that killed over 300,000 people, the country still struggles to recover. Those living in the area report non-governmental organizations are slowing the progress and the money that was donated is not being spent.
Assemblyman Thomas Boyland and his chief of staff plead not guilty on corruption charges.
Martin Luther King Day is celebrated with awareness about the attack on voting rights laws.
Power couple Beyonce Knowles and Shawn "Jay-Z" Carter give birth to their first child, Blue Ivy Carter.
Assemblyman Karim Kamara introduces a bill to end the use of testing as the sole criteria for admission of specialized public high schools, citing that it keep students of color out.
Filmmaker George Lucas releases the film "Red Tails" about the Tuskegee Airmen starring Cuba Gooding Jr. and Terrence Howard.
Mayor Michael Bloomberg focuses on education, unemployment and minimum wage in his next-to-last State of the City address.
Police fatally shoot 26-year-old Duane Brown of East New York, Brooklyn, after he rushs down the stairs of his home to investigate a push-in robbery.
On the campaign trail, President Barack Obama comes to Harlem for a fundraiser at the Apollo Theater, where he raises $3 million.
The Rev. Jesse Jackson hosts his 15th annual Wall Street Project Economic Summit in the city.
The slavery miniseries "Roots" commemorates its 35th anniversary.
Black actresses Octavia Spencer and Viola Davis win outstanding lead and supporting actress awards at the SAG Awards for their roles in the film "The Help."
A report released by the City University of New York and the DOE reveals that only 13 percent of Black students in public school are college-ready.
The NYPD arrests 43 gang members in Brownsville, Brooklyn, from two rival gangs in what they call "Operation Tidal Wave."
Singer Etta James dies at age 73. She is best known for the hit song "At Last."
Obama delivers his State of the Union address.
The DOE announces the closure of 33 schools due to low performance
Liberation Bookstore owner Una G. Mulza passes at age 88.
U.S. House Rep. Gabrielle Giffords of Arizona announces her resignation from office to focus on her recovery after surviving an attempted assassination.