Amsterdam News 2012 Year in review: January to June
1/2/2013, 5:08 p.m.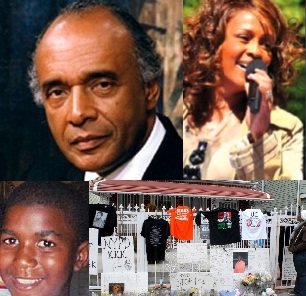 February
Black History Month is celebrated with the theme "Black Women in American Culture and History."
Host of longtime Black dance show "Soul Train" Don Cornelius dies at age 75.
Political district lines are changed, causing a rift in New York state politics.
The New York Giants win the Super Bowl, defeating the New England Patriots 21 to 17.
A student from the New York State's Office of Court Administration finds that Blacks and Latinos are underrepresented in jury pools.
AmNews publisher Elinor Tatum is honored in McDonald's annual Faces of Black History poster.
Umar Farouk Abdulmutallab, the so-called "underwear bomber," is sentenced to life imprisonment for attempting to detonate a bomb on Northwest Airlines Flight 253 in Detroit, Mich.
Outrage is felt across the city after NYPD officers fatally shoot unarmed 18-year-old Ramarley Graham in the Bronx. The teen was shot by police who pursued him and shot him inside his home.
The world mourns the death of Grammy Award-winning superstar Whitney Houston, who died at age 48 in a Los Angeles hotel. Her funeral is held in New Jersey.
Bloomberg and the DOE vote to close 23 public schools.
Numbers released by the NYPD indicate a 14 percent increase in encounters that took place with Blacks and Latinos from the previous year, with 90 percent of those being stopped-and-frisked being Black and Latino.
The 43rd annual NAACP Image Awards are held in Los Angeles.
Students rally against the high number of arrests and summonses of students in public schools.
Octavia Spencer wins the Academy Award for Best Actress.
The NYPD comes under fire after it's revealed the department participated in widespread surveillance of innocent Muslims following the 9/11 attacks.
The city pays $15 million in a settlement with about 22,000 people arrested for loitering going as far back as 1983.
Greater Allen AME Cathedral in Southeast Queens announces it will close its Allen Christian School after 30 years due to financial challenges.
Actor Dick Anthony Williams dies at age 77.
The world is outraged over the shooting death of unarmed Black 17-year-old Trayvon Martin in Sanford, Fla. His killer, George Zimmerman, who is multiracial, uses the controversial "Stand Your Ground" law as his defense and is not initially arrested. Many Black leaders say that the shooting is racially motivated.
March
Assemblyman Eric Stevenson calls for mental testing of NYPD officers to cut down on police shootings of unarmed people.
The 47th anniversary of the Selma to Montgomery marches is commemorated in Alabama. The celebration is led by the Rev. Al Sharpton and Rep. John Lewis.
The Vulcan Society holds classes for prospective Black firefighters to prepare for the FDNY's test.
Brooklyn City Councilman introduces the Community Safety Act, a set of three bills that calls for reform to the NYPD.
Longtime Black female WNBC 4 anchor Sue Simmons is let go after 30 years when the station fails to renew her contract.
A section of Broadway in Washington Heights near the Audubon Ballroom is named after Dr. Betty Shabazz, wife of Malcolm X.
Poet and activist Louis Reyes Rivera passes at age 66.
The New York state permanent Judicial Commission on Justice for Children hosted the National Leadership Summit on School-Justice Partnerships. The summit brought out school administrators from across the nation to cut down on the suspension rate of male students of color and to stop the "school-to-prison pipeline."
A court issues an award of $128 million in back pay for lost wages in response to hiring discrimination by the FDNY. The Fire Department must also hire 293 Black and Hispanic applicants.
Jazz drummer and composer Wade Barnes dies at age 57.
As more people learn about the shooting of unarmed Black teen Martin, rallies and protests are held globally for the arrest of his killer, Zimmerman.
Cuomo signs a controversial bill that allows New York state to expand its database of collected DNA to people who commit low-level offenses.
The New York Civil Liberties Union (NYCLU) reveals the 10 police precincts where officers made the most stop-and-frisks.
A slew of teacher-student sex crimes in public city schools make headlines, with many teachers accused of sex crimes still working with students. Schools Chancellor Dennis Walcott calls the alleged crimes "disturbing," prompting a review of several teachers.
The previously closed Harlem Record Shack, owned by Sikhulu Shange, reopens in a new location in Harlem.
The 11th National Black Writers Conference is held at Medgar Evers College.
The NYPD fires Giscard Isnora, one of the officers involved in the 2006 shooting of Sean Bell, while two other officers, Marc Cooper and Michael Oliver, are forced to retire. The officers were acquitted in 2008 for killing and firing 50 shots at Bell, who was unarmed, in Queens the day before his wedding.
Black activist Angela Davis visits Columbia University.
Al Sharpton's mother, Ada Sharpton, passes away.