Amsterdam News 2012 Year in review: January to June
1/2/2013, 5:08 p.m.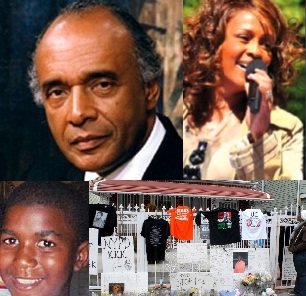 April
The NYCLU, along with several other organizations, sues the NYPD over its "Clean Halls" operation, which allows officers to patrol private apartment buildings.
The City Council freezes funding for the organization Picture the Homeless, which is vital to the city's homeless population.
Famed artist Elizabeth Catlett passes at age 96.
Faculty members at Medgar Evers College report the school's administration is going beyond their authority and removing department chairs without just cause.
Zimmerman is arrested in Florida and charged with second-degree murder in the killing of Martin. Zimmerman is later released on $150,000 bond after lying about his finances.
Legendary journalist and host of long-running local TV show "Like It Is" Gil Noble dies at age 80.
Sharpton's National Action Network hosts its 14th National Convention in Washington, D.C.
Residents in Tulsa, Okla., are terrorized by a white man who is shooting Black citizens.
New York state Attorney General Eric Schneiderman reveals the establishment of a new Conviction Review Board to address wrongful convictions in the state.
Longtime Brooklyn Rep. Ed Towns announces he will not run again after serving 15 terms.
A change in district lines creates a new district in upper Manhattan, putting both Rep. Charlie Rangel and state Sen. Adriano Espaillat in the race for the congressional seat.
The late Dr. Manning Marable posthumously wins a Pulitzer Prize for his book "Malcolm X: A Life of Reinvention."
Blair Underwood and Nicole Ari Parker star in an all-Black revival of "A Streetcar Named Desire," which opens at the Broadhurst Theatre.
Sixteen-year-old Corey Fisher dies at a private residential treatment center in Yonkers after playing a basketball game, during which staff members physically restrain him. The incident is caught on surveillance video.
State Sen. Eric Adams announces that he wants MTA employees to be armed with tasers in an effort to combat terrorism and violence.
A town hall meeting is held in Harlem to address several new development projects coming to the area. The projects include the building of a new hotel on 125th Street and the reopening of Minton's Playhouse.
After nearly 30 years on the air, Black radio station 98.7 KISS FMgoes off the air. The station merges with 107.5 FM WBLS/1190 AM WLIB.
The community is outraged when 27-year-old Tamon Robinson is struck and killed by a NYPD cruiser in Brooklyn after he allegedly stole cobblestones.
May