New Black Panther Party celebrates Kwanzaa
1/3/2013, 2:52 p.m.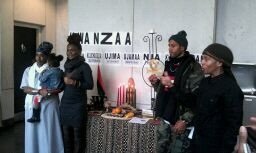 The Trenton chapter of the New Black Panther Party Kwanzaa ceremony, hosted by Divine Allah, was a very educational and inspirational one. Special guests included spoken word artists Polo Cortes and Narubi Selah. The standing-room-only attendees also heard from Aula Sumbry of the Social Action Committee and
representative of the Delta Upsilon Chapter, Omega Psi Phi, and Councilman-at-Large Alex Bethea. Also in attendance were members of the Trenton Anti-Violence Coalition.