Love in three courses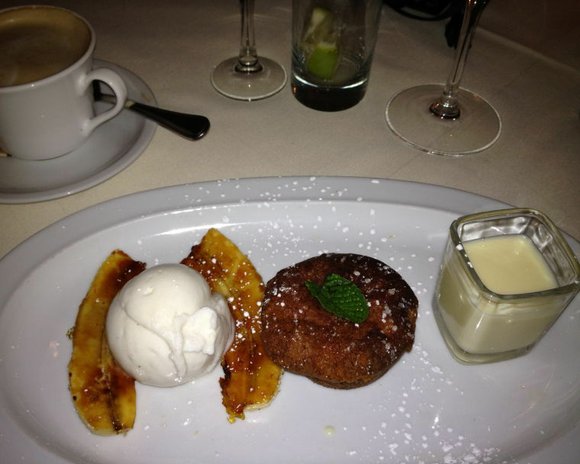 My "secondi" was a little harder to choose. The groom ordered off the menu with salt-crusted branzino and the bride a stuffed pork chop. I too wanted branzino, but the on-menu Branzino alle Mandorle (Mediterranean sea bass encrusted in almonds and served in lemon sauce over sauteed French beans). All I can say is, "Yes!" Gently toasted sliced almonds encrusting moist, seasoned seabass swathed in a delicate butter-lemon sauce that all worked together in perfect harmony--it was kind of a good food metaphor for the happy couple at the other end of the table.
For dessert, I couldn't leave that table without trying the banana cake with brleed bananas, vanilla ice cream and creme anglaise. Heaven! I had to stop halfway through though for fear of passing out in a food coma. Not a good look in mixed company.
Lisa and Doug, congratulations on your union! Thank you for allowing me to witness your joy and play a small part in your day, and for one of the better New York City food days I've had in a while.
I look forward to seeing you two grow wiser ... and funnier ... together forever.
Enjoy, get eating and thanks for reading!
Kysha Harris is a food writer, culinary producer, consultant and owner of SCHOP!, a personalized food service offering weekly and in-home entertaining packages. Questions? Comments? Requests? Feedback? Invitations! Email her at kysha@iSCHOP.com, follow her on Twitter @SCHOPgirl or Facebook www.facebook.com/SCHOPnyc or chat with her on Instant Messenger at AskSCHOP, Monday-Friday, 6-8 p.m. For even more recipes, tips and food musings, subscribe to her blog at www.talkingSCHOP.wordpress.com.