Retired firefighter Al Benjamin: Who's going to carry the can now?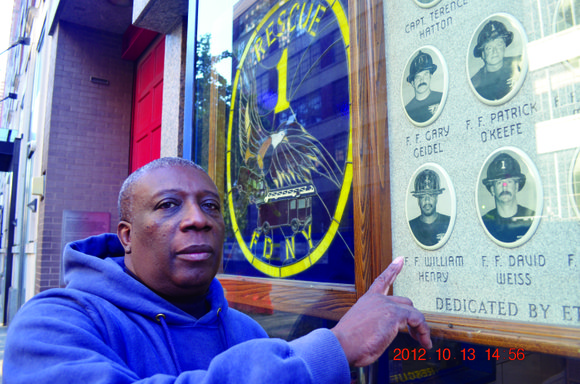 According to retired firefighter Al Benjamin, he was indoctrinated into the fire department when he was young boy growing up in Bedford-Stuyvesant, Brooklyn. Benjamin participated in picnics and outings sponsored by the Vulcan Society, the fraternal order of Black firefighters, at the neighborhood firehouse.
As he grew older, those same firefighters convinced Benjamin to take the exam. Before he joined, he debated whether to become one of New York's finest or bravest. His final decision was easy. Thirty-five years later, he has nothing but heartfelt memories of a storied career he describes as traditional and colleagues he calls family.
Benjamin took the firefighter exam in 1971 and was one of 350 firefighters who entered the New York City Fire Academy in 1977. His first assignment was with Engine 221 in Williamsburg. "When I first started in the Fire Department, I didn't know what to expect," Benjamin recalls. "The Vulcan Society was very instrumental in helping me to adjust when I came on the job."
After two awards for bravery, Benjamin left Brooklyn in the early 1990s and transferred to one of FDNY's most elite units, Rescue 1, in Manhattan. The move to a firehouse in the midst of Manhattan's skyscrapers proved to be a tough challenge. Six-story walk-ups turned into 20-story climbs. Benjamin quickly galvanized with the guys with the most experience.
"I just hung out with the old-timers," Benjamin said. "If you're open to learn, they were open to teach you." Benjamin became the longest serving firefighter in the special operations command and participated in every presidential detail in the city since Nixon.
At Rescue 1, Benjamin was known as the "Can Man," a name given to the firefighter responsible for gathering the necessary information when a call came into the station. After receiving information, he would facilitate the duties to the firefighters and along with the captain would be the first to arrive on the scene.
Battling blazes and saving lives all became part of a day on the job. The montage of special and fond memories of his career as a firefighter is filled with praises for fellow comrades he refers to as heroes, especially when it comes to the 10 firefighters who lost their lives on Sept. 11, 2001. Benjamin was scheduled to work a 24-hour shift the day the World Trade Center was attacked but swapped out with another firefighter. "He worked in my place and he ended up losing his life," Benjamin said sadly.
Benjamin retired in October, a role model to the people of the city of New York. When he arrived at the station for his retirement party, there was a sign in front of the station that read, "Who's going to carry the can now?" City Council President Christine Quinn gave the Rescue 1 member a proclamation from the city of New York for his bravery and courage. His peers gave him a warm thank you, which came equipped with hugs.
When asked about what would he do now that he is retired, he replied, "Right now, I'm just cruising. I will be spending a lot of time with my wife of 40 years, Helene, and my three children."