2012: The year In Black theater, Part 1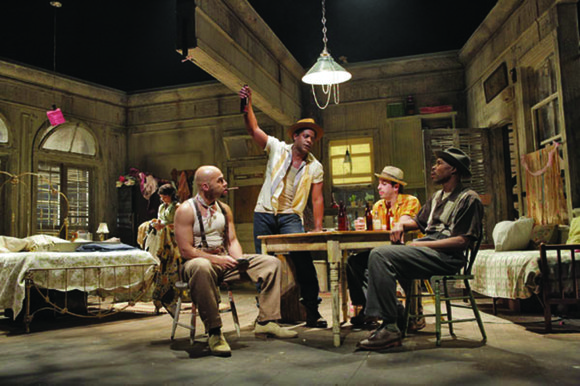 2012 was a year that saw African-Americans cast in all types of productions, from pivotal roles in Broadway dramas to amazing roles in musicals and, of course, captivating audiences in Black theater productions. African-Americans demonstrated their God-given talents over and over again throughout 2012. It was also a year that saw the opening of a new nightclub venue that often features African-Americans performing solo shows.
One of my favorite aspects of the year was when an all-minority cast took to the Broadway stage and did a Black-version of the classic Tennessee Williams play "A Streetcar Named Desire." Whether you were watching Black performers make their debuts or watching veteran actors strut their stuff, 2012 was a fantastic year for our people to once again shine brightly before the footlights.
The year started with Carra Patterson as she made her Broadway debut in "Wit," a very intense drama about a woman dying of cancer. Cynthia Nixon played the lead role, but Patterson's performance as a sympathetic nurse taking care of the dying woman was very moving to see, especially since she seemed to be the only character with any sympathy for this scared woman dying a painful death.
The musical "Godspell" was amazing at the Circle in the Square Theatre. This production's mixed cast set the stage on fire with some of the most engrossing performances you would ever see. The African-Americans in the cast who delivered brilliant performances were Wallace Smith, Uzo Aduba and Celisse Henderson.
I don't know if any of you remember the first time you saw the Vy Higginsen production "Mama, I Want to Sing," but this year, she brought out "Mama, I Want to Sing: The Next Generation," presented at the production's former theatrical home, the Dempsey Theatre at 127 W. 127th St. This production is the old-time favorite presented with the same powerful narration delivered by Higginsen. The "next generation" referred to here is Higginsen's daughter, Ahmaya Knoelle Higginson, who stars as the main character, Doris Troy (Vy Higginsen's late sister). Her voice is stunningly beautiful.
The production also has many other talented African-American performers, including Bettina Pennon, Sandra Huff, Tyrone Flowers and Elijah Ahmad Lewis. This production is still running at the Dempsey Theatre. For dates and times, visit the Mama Foundation's website at www.mamafoundation.org.
Now, one of my favorite theaters in Brooklyn is the Billie Holiday Theatre, under the leadership of Marjorie Moon. I love going to this theater because Moon painstakingly mounts productions that entertain and also give a voice to Black playwrights. John Shevin Foster's "Plenty of Time" was a romantic drama that starred Celestine Rae and Jackie Alexander. Now, of course, Alexander should be a familiar name to anyone who has been to the Billie Holiday, since he was its former playwright-in-
residence. On the stage, he was captivating to watch, along with his co-star.
The Castillo Theatre in Manhattan offered the public a marvelous, creative, unique musical called "Sally and Tom: The American Way." This production had a mixed cast and told the story of Thomas Jefferson and his Black lover Sally Hemming. The Black actors featured in this production were fantastic and included Ava Jenkins and Brian D. Hills.