2012: The year In Black theater, Part 1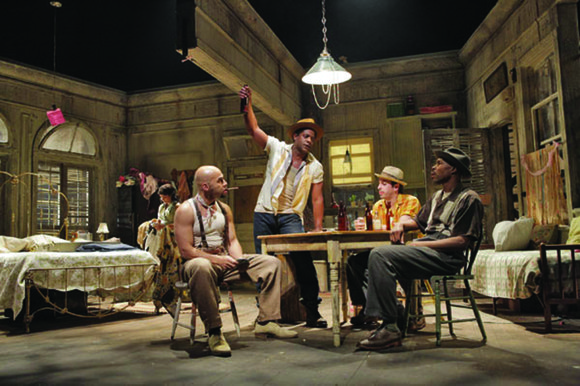 Now, anyone who knows anything about Black theater knows that Woodie King Jr.'s New Federal Theatre has been delivering fabulous work for decades, and in 2012, they continued this tradition. "Court-Martial at Fort Devens" focused on the injustices that the African-American female WAC experienced in 1944 and 1945. The cast members were riveting to watch and included Nambi E. Kelley, Eboni Witcher, Evander Duck, Gillian Glasco, Keona Welch and Alia Chapman.
The spectacular musical "Jesus Christ Superstar" took audiences on Christ's journey, equipped with some of the most high-octave rock music you could ever hear. The African-American featured in this cast was Marcus Nance.
Playwright Bruce Norris did a great thing, as far as I'm concerned, when he brought the topic of gentrification to the Broadway stage with his drama "Clybourne Park." This production depicted a white couple who moved out of an all-white neighborhood and how upset neighbors were to find that they sold their home to a Black family. Years later, the neighborhood is predominantly Black and greatly changed, and now a white couple is trying to buy the house. The African-American cast members who truly gave magnificent performances were Crystal A. Dickinson, Damon Gupton, Brenda Griffin, Christina Kirk and Frank Wood.
As I mentioned earlier, I was very excited when I heard that a production of "A Streetcar Named Desire" was being performed on Broadway at the Broadhurst Theatre on West 44th Street, starring Blair Underwood as Stanley, Daphne Rubin-Vega as Stella, Nicole Ari Parker as Blanche and Wood Harris as Mitch. This cast took the drama to another level. They stayed true to the playwright's words, but they also had their own special way of delivering the script. There was passion, drama and power in their performances. African-Americans also worked as strong supporting cast members, with Carmen De Lavallade, Count Stovall and Aaron Clifton Moten taking to the stage. The only problem with this production was that it didn't get enough support from the public and ended its run much, much too soon.