Knitwear news for fall '13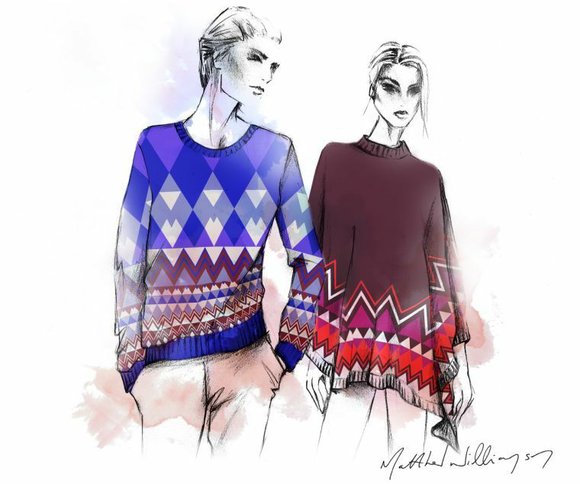 For next fall and winter, Ballantyne Cashmere has started a new collaboration with British fashion designer Matthew Williamson. He designed an exclusive capsule knit collection that's modern and magical in your wardrobe. Known as a luxury label the world over, Ballantyne is an iconic British brand founded in 1921. Their main focus is knitwear crafted from the finest wool and cashmere yarns. Their knits celebrate their British heritage and continued global development.
Williamson is renowned for his highly recognizable aesthetic. His masterfully produced prints, embellishments, attention to detail and kaleidoscopic color adds to Ballantyne's tradition in the production of bespoke cashmere knitwear. His looks will further support the brand's international growth.
For both men and women, the Matthew Williamson for Ballantyne Capsule Collection is produced entirely in Italy and Scotland. The collection will be available in primary Western and Asian markets and in major department and concept stores worldwide starting this July. They will have their international preview in February during Milan Fashion Week.
Willliamson was born in 1971 in Manchester, England. He studied in Manchester until he was 17. He moved to London to attend school at Central St. Martin's College of Art and Design, graduating in 1994. His fashion house was founded in 1997. During that same year, Williamson introduced his "Electric Angels" collection at London Fashion Week. His collections were also displayed during New York Fashion week in 2002 and his store opening in Mayfair, London, followed in 2004. In 2005, he launched his own perfume range. The following year he was appointed creative director at Emilio Pucci. Williamson also made a guest appearance on season 7 of "Project Runway." The episode aired on Jan. 28, 2010.
"We are thrilled with the choice of Matthew Williamson as creative director of this capsule collection," said Ballantyne Cashmere CEO Franco Natalucci. "In addition to our British roots, both brands share a genuine love of quality and luxury workmanship."
Williamson added, "It was a privilege to work with Ballantyne, an iconic brand possessing such a rich British Heritage. Ballantyne has a great appreciation of style and craftsmanship that truly complements the Matthew Williamson brand."