The 49ers and Kaepernick have a Super Bowl date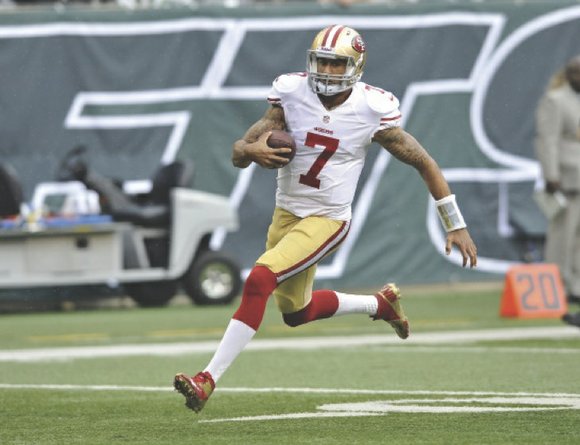 In the National Football League, defensive coaches are constantly devising methods to stymie innovative offenses, while offensive masterminds sit in labs like mad scientists, brainstorming complex formations.
The playoffs illuminate the Cold War-like atmosphere that permeates the NFL, and the San Francisco 49ers may have the most lethal weapon of any team still standing in the postseason. Their second-year quarterback, Colin Kaepernick, is a human nuclear warhead. He annihilated the Green Bay Packers on Saturday night, rushing for 181 yards, a record for an NFL QB, and passed for 263, accounting for four touchdowns in the 49ers' 45-31 victory, carrying them to the NFC championship game this Sunday (3 p.m.) versus the Atlanta Falcons.
The Falcons blew a 20-0 halftime gap but survived what would have been a devastating loss when kicker Matt Bryant boomed a 49-yard field goal with 13 seconds remaining to edge out the Seattle Seahawks and their spectacular rookie quarterback, Russell Wilson, by 30-28. They will host Kaepernick and the 49ers in a matchup that will be Beauty versus the Beast.
The latter, the Beast, are the 49ers. By and large shunning intricate alignments on both sides of the ball, they are the prototypical old-school outfit that simply seeks to pound their opponent into submission. Employing the most physical and talented offensive line in the business, the 49ers, under the direction of head coach Jim Harbaugh, utilizes the read option offense to maximize Kaepernick's skill set, which consists of superior running ability and a powerful, accurate arm.
Harbaugh was highly criticized for his decision to name Kaepernick the 49ers' starting quarterback in place of Alex Smith, the former starter who was experiencing a breakout season before suffering a concussion against the St. Louis Rams on Nov. 11.
Kaepernick, who was born in Milwaukee and raised in the central California city of Turlock, has rewarded Harbaugh by going 6-2 at the helm. The University of Nevada alumnus provides a run-pass dynamic to the 49ers' offense that Smith could not offer.
Coupled with a punishing defense, the 49ers will ultimately wear down the Beauty that is the Falcons and win by 30-17. Kaepernick and the Niners will keep a Feb. 3 date in New Orleans.