William Nadylam talks Peter Brook's 'Suit' at BAM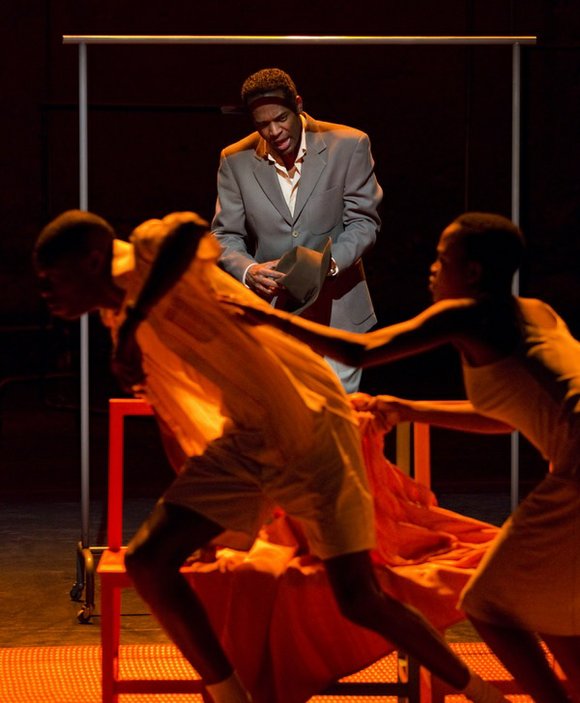 "There was an attempt to destroy it, but it didn't succeed, because we are performing his stories now," the distinguished international actor William Nadylam conveyed. His conversation centers around the South African writer Canodoise Daniel "Can" Themba and his short story "The Suit," which has been adapted into a play running Jan. 17 through Feb. 2 at the Brooklyn Academy of Music. Nadylam portrays Philemon, the male lead, in this staging by Peter Brook.
Themba, a journalist and short story writer, was one of the famous "Drum Boys" who wrote for the groundbreaking Drum magazine in the vibrant, culturally rich, multiracial community of Sophiatown, Johannesburg. The other members included journalists Lewis Nkosi, Nat Nakasa, Bloke Modisane and Es'kia Mphahlele.
"Themba was an intellectual," says Nadylam, who was born in Paris to a father from Cameroon and a mother from Reunion, the French island in the Indian Ocean. "The thing that was really touching for me is that [in the play] we were talking about the pre-existing intellectual life in South Africa before apartheid. Because we have been shocked by apartheid, we tend to forget that before that, there was something already standing."
Nadylam points out: "The aim of apartheid was to destroy not only the people, but what they built intellectually--to destroy and minimize their existence. And they were not just writers--there were doctors, lawyers, actors. They were Black people."
For this staging of "The Suit," the direction, music and adaptation are jointly credited to Brook, Marie-Helene Estienne and Franck Krawczyk. A 1990 staging was created by the South Africans Mothobi Mutloatse and Barney Simon.
The story concerns a man, Philemon, who is married to Mathilda (Nonhlanhla Kheswa). Nadylam conjectures that the characters are living lives similar to what Themba experienced at the time he wrote the short story. "We are talking about a man who is a writer, but mainly he is a journalist for a newspaper. He was trained as a teacher, but ends up a writer/journalist," Nadylam says.
Nadylam went on to explain that being a journalist/writer during the time of apartheid in South Africa was unlike being one in Paris, London or New York. "If you are a writer and do your job, you faced the difficulty of being an African man in a racist society, so before you finish doing your job, you are confronted with the difficulty [that] anything you do will be controlled." Themba had to run away after being viewed as "an enemy of the government," Nadylam says, and he died a year after going into exile.
"The thing about Themba is that throughout all his troubles, he still had the strength to smile and the strength to be happy. So this is a story that is a tragic one, but you laugh from beginning to end, and that's something typical to Africa, or maybe to Black people. You laugh from the beginning to the end. The capacity of putting laughter in the middle of a tragedy ... so the way I'm going to say it, it sounds really sad and tragic, but in fact it really does come across as a tragedy when you watch it."