New charter school will focus on Harlem history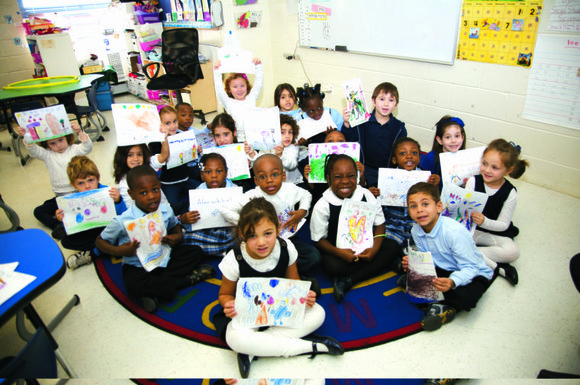 Harlem is about to get another charter school. The Harlem Hebrew Language Academy Charter School plans to follow in the steps of Brooklyn's Hebrew Language Academy, which opened in 2009, in celebrating the rich diversity of New York City by bringing a diverse cultural learning and dual language experience into the classroom.
HHLA will be located on St. Nicholas Avenue between 117th and 118th streets in the building that was formally the St. Thomas of the Apostle Church School, rather than share space with an existing public school facility. The school is free and will initially serve 156 students grades K-1 in its first school year. It will grow by one grade each year for the next five years to reach its capacity of 450 students. Classes will have 26 students with two teachers each. The school day is extended from 8 a.m. to 4 p.m. The school year is also extended to 190 days. Opening day is planned for August 2013.
Students will have a rigorous academic program with instruction in English Language Arts, math, social studies, science (all of which will be conducted in English and Hebrew), as well as standalone Hebrew instruction. Students will also have classes in music, physical education, art and technology each week.
Dual language curriculums have increased in popularity, as these programs have been proven to help better prepare students to think, live and thrive in a global society. Students are bilingual and biliterate. Hebrew was chosen as the second language because of its revitalization over the last 150 years from a classical to a living language.
"At the Brooklyn school, 81 percent of the children speak a language other than English in the home," said Maureen Campbell, director of outreach and recruitment. "We're becoming bilingual and we have a very diverse population. The curriculum has been a springboard for kids to do other projects. They bring the history of their families into the classroom. The elders come in and talk about their cultural positions. It is inspiring to the children. They ask questions, they are active learners," she said.
Thanks to a partnership with the Schomburg Center for Research in Black Culture, the Harlem school will have the added component of a curriculum that includes the storied community's own history. Why Harlem history?
"As part of art development of Harlem Hebrew, we reached out to many community organizations, and it's very important for us to have partnerships and leadership within the communities. We reached out to the Schomburg Center early on," said David Gedzelman, secretary of the board of trustees and one of the founders of Harlem Hebrew.
"It's important for us to build relationships. We found that when we met with Deidre Hollman, associate director of the Junior Scholars program, and research historian Christopher Moore at the Schomburg, it really clicked. We had long conversations about the histories of various communities over that last 150 years that made Harlem their home, and it really emphasized the idea of migration and why people make decisions about leaving where they lived and focus on new opportunities. Harlem was a beacon for folks over many decades.