Presumptive mayoral hopefuls questioned by Sharpton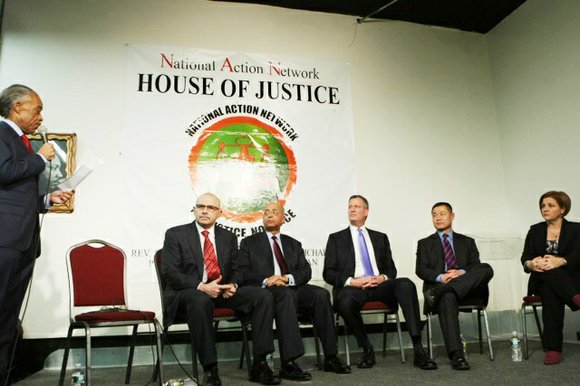 There was no applause meter available at the National Action Network Tuesday evening to register the audience reaction to responses from five presumptive candidates for mayor, but if there was, one or two mayoral hopefuls would have fared very well.
Gathered in a semi-circle on NAN's stage to field questions from the Rev. Al Sharpton were Sal Albanese, Bill de Blasio, Bill Thompson, John Liu and Christine Quinn.
In the only lightning round, the candidates were asked to answer yes or no on whether NYPD officers should be required to live in the city. Quinn and Liu were quick to respond yes, while de Blasio said no. Both Albanese and Thompson equivocated, offering some concerns about residency, given the cost of living and other variables. The responses were too rapid for the wished-for applause meter to register any distinctions to replies, but it shot to the top when Thompson and the others were asked whether they would keep Ray Kelly as police commissioner. "I will bring my own team," Thompson said, "and I will not retain Kelly."
On the other hand, the arrow swung to the bottom when Quinn said that any mayor would be "lucky if Kelly stays." This brought the loudest disapproval from the audience and forced her to rephrase her remarks. "If I'm mayor, whoever the police commissioner is, will work with me."
Other dramatic swings on the meter occurred when Liu asserted that a settlement should come once and for all for the "Central Park Five," who were put under "intense pressure, charged with 'wilding' and sent to prison," he explained. "They have spent 10 years waiting to be compensated, and it's time we settled this."
Liu also received a strong response when he declared that unlike the other candidates, "I'm an immigrant, but the level-field he's experienced should be extended to all New Yorkers, no matter who they are. When he invoked the term "racial profiling" during his response to the hot issue of stop-and-frisk, there was an equally positive response from the audience.
The most impressive reaction to de Blasio came when he recounted the times he has taken on Mayor Michael Bloomberg, explaining that this is what distinguished him from the other candidates. "The mayor has kept up a running attack on the labor movement," he charged, "which is really a soft version of union busting." His comment may have increased reverberations as the school bus strike gets underway.
Albanese drew his best response from the audience when he decried the mayor's dehumanization of teachers and his overturning of mayoral term limits.
Among the noticeable comments during the debate was Quinn's citing of Thompson and generally agreeing with him on several occasions. Equality was a topic that each of the candidates discussed, and Quinn pushed hard for economic equity, which she viewed as her strongest disagreement with the mayor. "He has vetoed our plan to bring wages up and we're also fighting him in court on his homeless policy," she said.
Thompson said his biggest complaint with the mayor was on his educational policy. He was dismayed to learn that "70 percent of our children can't do college-
level work." Thompson also offered his background, which is quite impressive, as a distinguishing factor.
It was a lively debate and the questions put to the candidates were often as insightful as the responses. It was a fitting end for a full evening of activities that began with the celebration of Dr. Martin Luther King's birthday, as well as an appearance by Bloomberg, who was gone before the candidates arrived.