1199 and MXCC host dinner to support political prisoners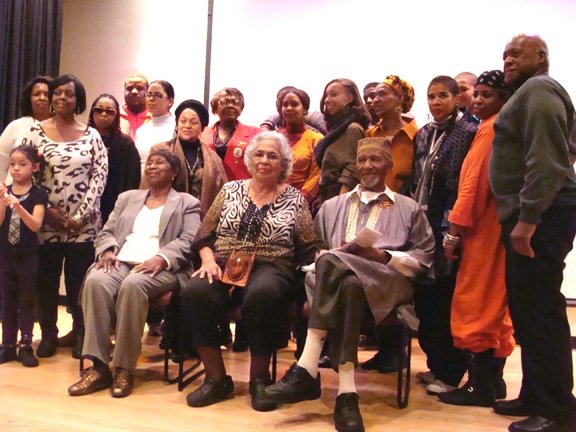 Gilyard told the Amsterdam News, "We can do so much more...if we would just acknowledge our strength. We've got to come together (organize), and act like people (citizens), and apply pressure to everyone (politicians, ministers, etc.) Stop spending our money for gold teeth, diamond earrings (on men), $300.00 sneakers...that we may lose our life when someone else wants them. We as a people through away too much money. We've got to stop spending our money on things that we want and beg for things that we need. Here in New York City we are the largest 'minority' and we could accomplish anything we want...if we only want it bad enough and if we just ORGANIZE. Join with us so we can acquire the strength to bring our Brothers and Sisters home."
Dequi Kioni-sadiki, co-chair of MXCC told the Amsterdam News, "We honor our PPs because as members of the BPP/BLA, they served and defended poor and working-class Black communities across this country with free breakfast programs, health clinics, sickle cell anemia testing, Liberation schools, food pantries, detox and drug treatment and an end to the police terror/violence/murder of Black/Brown men, women and children. We honor our PP/POWs because they and their families have lived the ugly truth of Cointelpro's war on Black people up close and very, very personal for the past 40 years, because 20-25 of them have served a collective 800+ years of unjust political imprisonment because the police, courts, parole boards and mainstream media have criminalized them and ignore the reality of U.S. held PP/POWs. But we the community, make clear these are not criminals, they are our freedom fighters who carry on the dreams shared by Queen Nzingha, Harriet Tubman, John Brown, Malcolm, Fannie Lou Hamer and a host of others, who believed Black people have just as much right to self-determination, justice and liberation as whites, and put themselves to work with the goal of making that a reality."
The wife of political prisoner Sekou Odinga told the Amsterdam News. "If more of us took seriously the need to be in the service of the People, walking the walk, and not just talking the talk, it would not be long before the socio-political injustices destroying our families and communities would cease to exist. And so, for 17 years strong, as we work to educate those who don't know that PP/POWs do in fact exist in this country, we honor our PP/POWs for reminding us as Abdul Majid says 'freedom ain't free, and it don't come cheap.'"
"At the dinner we will focus on 'Transforming Solidarity: Working Together to End Political Imprisonment & Mass Imprisonment!" said Iyaluua Ferguson, wife of life long activist Herman Ferguson. "All proceeds to benefit Political Prisoners/Prisoners of War represented at the dinner."
Once again the dinner will take place at the Martin Luther King, Jr. Labor Center, 1199 Union HQ
310 W. 43rd Street , bet. 8th & 9th Aves., in Manhattan.
Keynote speakers include Johanna Fernandez, the director of "Justice on Trial: The Case of Mumia Abu-Jamal;" and
Malik Rhasaan, founder of Occupy the Hood; with cultural presentations by Hip-Hop Artist Jasiri X
Tickets are $40/advance reservations * $45/at the door.
For more information contact: 718-512-5008 or email: mxcc519@verizon.net
Meanwhile on Monday January 21st , there will be a book signing with Herman and Iyaluua
Ferguson, 92 and 80-years-old respectively - the iconic Black Nationalist couple , with their new book , " An Unlikely Warrior - Herman Ferguson - Evolution of a Black Nationalist Revolutionary."
The book signing will take place on Monday January 21st , 2013 at Sisters Uptown Bookstore 1942 Amsterdam Avenue (at 156th Street ), from 5 pm - 7 pm.