'Bethany' - it's not 'Ugly Betty'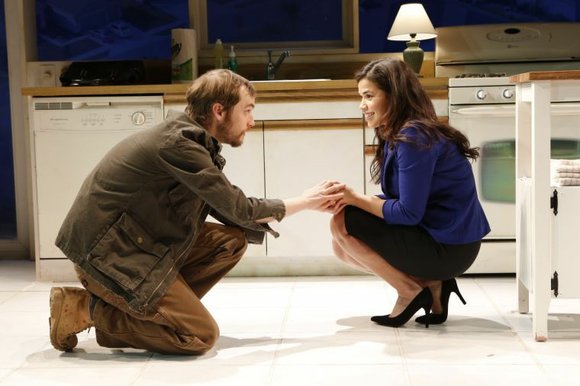 The monologues he delivers are designed to delight and expose his underbelly. He might believe his own crap, which makes his good-guy exterior suspect. He is hiding something darker. When Charlie offers to drive Crystal home, after teasing her with dinner and drinks, under the ruse of finally buying the car, his true nature pops out. He is after sex, but he cloaks his true motive in "the secret laws of prosperity." He wants quid pro quo. He wants to get laid, and the sale of the car is the implied reward.
Crystal is between a rock and a hard place, pressured from all sides. "Bethany" shows the dirtiest of laundry as this intelligent, sincere and hard-working woman struggles with the slippery slope of morality.
"I just want my daughter and my life back," you can almost hear her scream, as she struggles to keep her game face on. There are moments when you want to rescue her. To stop the madness and give her a do-over. She deserves it. Hell, don't all good souls, caught in traps not of their own design?
And then, the playwright turns a page so swift, I was observing with eyes wide open and mouth agape. Neither shut until the play ended.
Crystal. I'm going to keep your secret. Soul sister. My sister. There is a line from Marks' lush work that is uttered by the character Shannon: "There is a special place in hell for women who don't help [other] women."
Performances, all around, do not disappoint. Ferrera has a magnificent gift. At ease onstage, she delivers velvet blows and dodges with a boxer's agility. Another member of the cast who deserves at least a mention is Emily Ackerman, who brings a dry wit that is pitch-perfect to the play as Crystal's brittle boss, Shannon.
Marks has created an enjoyable yet discomforting drama trotting out the economy as the most villainous of villains. She didn't scrape away at the surface niceties of American life, she drilled a hole in the surface with an aim to hit the core. Brava, I say.
This is about survival of the fittest, where moral examination is a moot point. If no one witnessed it, did it happen at all?
"Bethany" is directed by Gaye Taylor Upchurch with sets by Lauren Helpern; costumes by Sarah J. Holden; lighting by Mark Barton; sound by Leon Rothenberg; dramaturgy by Megan E. Carter; and fight direction by J. David Brimmer. Presented by Women's Project Theater at the New York City Center Stage II, 131 W. 55th St. For more info, call 212-581-1212 or visit nycitycenter.org. Through Feb. 17. Running time: 1 hour 30 minutes.