'New York is rising,' Cuomo declares in State of the State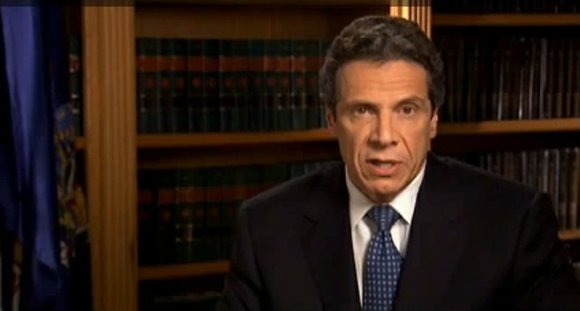 Jobs and education were vital areas of discussion for the governor, and he elaborated on several plans to improve conditions in both sectors. In particular, his proposal for further teacher evaluations and early education for our youngsters vibrated like electricity among the listeners.
"Public trust and renewing the dream," he said, which was reminiscent of his last State of the State address, as he cited a number of obstacles that no longer existed in terms of getting bills through the Legislature.
There were moments of humor and levity when he discussed his plan to have an Adirondack Challenge featuring elected officials on water rafts, with depictions on the screen of state Sen. Jeff Klein and state Senate GOP leader Dean Skelos holding paddles that Cuomo insisted operate the same way. Bloomberg was pictured alone in his raft, while Cuomo was seen with an engine attached to his. He envisioned the challenge as a way to boost tourism upstate.
Toward the end of his speech, the often-dull monotone was enlivened as he announced that while the state was indeed rising, there was still much "work to do."
"It's rising because New Yorkers are united like never before," he bellowed, the crescendo of applause matching his newfound enthusiasm. "In our darkest moments, we shine the brightest. Yes, we're rising, and we're going to make the state safer."