Unions, activists react to Cuomo's State of State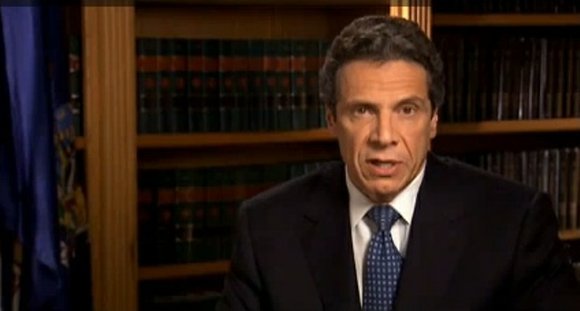 During last week's State of the State address in Albany, New York Gov. Andrew Cuomo touched on almost every hot-button topic that's dominated public conversation, like women's rights and gun control. Cuomo also discussed education, increasing the minimum wage and stop-and-frisk. It's no surprise that several union members and activists had something to say about Cuomo's take on those subjects.
United Federation of Teachers (UFT) President Michael Mulgrew praised Cuomo for his desire to centralize neighborhood needs in local schools.
"We are pleased the governor endorsed the idea of 'community schools,' which makes schools the hub for medical, mental health and other services," said Mulgrew in an emailed statement to the AmNews. "It makes sense to locate the services where they can do the most good--in the schools."
Mulgrew also pointed to Cuomo's proposal for a grant program that could help increase the amount of time kids spend in school learning new things as a positive update for the future.
"The governor recognized our most accomplished teachers and wants to create a way for them to share their experience and to help others hone their craft," said Mulgrew. "We also applaud Governor Cuomo for proposing a way for school districts to increase learning time for students through a creative grant program, one that districts could use to restore their enrichment programs in music and the arts."
With the talk of increasing the state's minimum wage from $7.50 to $8.75, several unions, like Stuart Appelbaum's Retail, Wholesale and Department Store Union (RWDSU), couldn't wait to sing Cuomo's praises.
"This year, Albany leaders can create a legacy of economic fairness for New York's low-wage workers. Governor Cuomo's championing of a minimum wage increase of $8.75 in his State of the State speech is the first big step," said Appelbaum, president of RWDSU. "Assembly Speaker [Sheldon] Silver has demonstrated his commitment to raising the wage throughout his career; and we're heartened that [state] Senator Jeffrey Klein, last year, introduced legislation identical to Speaker Silver's bill to raise the minimum wage and index it each year going forward. Labor, community, faith and student groups will keep working hard until the bill is passed and New York families finally feel the impact."
Nelson Figueroa, president of 32BJ, felt the same way. "32BJ applauds Governor Cuomo for announcing today his support for a minimum wage increase, campaign finance reform and greater regulation of public utilities," he said. "More and more New Yorkers are working at low-wage jobs, and as the governor said, increasing the minimum wage is critical to helping these families cover basic living expenses." But Figueroa also felt that Cuomo missed an opportunity to discuss immigration and the DREAM Act.
"We urge the governor to also continue his progressive leadership on immigration issues by expanding the state's tuition-assistance program to all qualified young people regardless of their immigration status," said Figueroa. "Tuition assistance to qualified, undocumented immigrant college students is necessary to give our state the diverse, highly skilled workforce it needs."
During his address, the governor also expressed his desire to look at the racial disparities in marijuana arrests and the results of the New York City Police Department's "stop-and-frisk" policy. After the recent court ruling declaring NYPD's Clean Halls program unconstitutional, the momentum surrounding police reform is shifting toward the activists. Joo-Hyun Kang, a spokesperson for Communities United for Police Reform, is pleased with the governor being on board and hopes that it results in concrete policies.
"We are pleased Governor Cuomo recognizes the significant problems the NYPD's use of stop-and-frisk has created for New Yorkers and applaud his commitment to address the racial disparity of low-level marijuana arrests," said Kang in a statement. "We look forward to supporting the efforts of the governor, legislators and advocates to achieve this reform, and also look forward to working with him to address other discriminatory policing practices that have continued under Mayor [Michael] Bloomberg and Commissioner [Ray] Kelly, affecting the lives of millions of New Yorkers."