Publicolor teaches students the power of hue
Jasmin K. Williams | 7/11/2013, 2:07 p.m. | Updated on 7/11/2013, 1:57 p.m.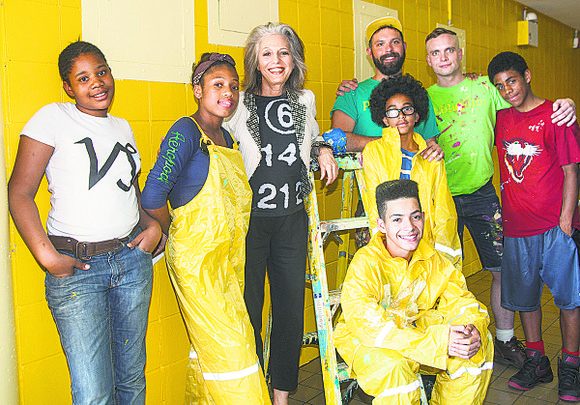 She created a game to teach students about the language of color and to better understand why certain colors would work. Then, when students voted on a particular color, they could do it with a real understanding.
"They become our anti-graffiti posse. The idea is to treat students with respect and teach them to take pride in their environment and respect it in return. It works. Publicolor walls don't suffer graffiti," Shuman said. Benjamin Moore donates every drop of paint.
It's not just students who get down and dirty; corporate volunteers pitch in as well. Students get a rare opportunity to learn from them and ask about career options based on their skills and interest. In turn, the volunteers tell students about their particular jobs and what types of skills are necessary. There's a lot more going on than just paint. It's a great way to introduce students to a host of job options they may have never even thought about.
"The favorite part of being in a Publicolor paint club is meeting new people," Shuman said. "They love the volunteers and they love the fact that these people aren't being paid to show up. They are coming on their own volition, coming because they care. That's a powerful message, and it is not lost on our students."
Shuman found it hard to leave her kids after working with them. She started a touch-up program to keep the relationships going.
"I wanted to be a force greater than the street, so I knew I had to be with them a minimum of three days a week," she said.
Again, it's more than just paint. The three-day program includes life-skill workshops, tutoring and painting on Saturdays in schools or in nearby under-resourced community facilities like local health clinics and senior centers, community centers and homeless shelters and even the local police precinct.
"Sometimes the police even come in and help with painting the schools. This is a tremendous opportunity to build trust between two groups that frankly don't trust each other," Shuman said.
As the kids got older, the next move was to get them heading in the direction of college and career. Next Steps has the same three-day model, which includes tutoring, career and college prep with two multi-day campus visits, exposing students to college campuses. The program also helps students fully access financial assistance.
"There's a major disconnect between our expectations of excellence from teachers and students and these environments that we're putting them in. That's when the lightbulb went on. If I put a paintbrush in the hands of disaffected students, we'll change the way their school looks and feels. They'll develop a sense of pride and ownership, and I'll be able to talk to them about the importance of education and finishing high school.
"I am proud of the fact that despite our focus on the lower-performing students in our city's lowest performing schools, in the past three years, not one Publicolor student has dropped out, verses 40 percent of their peers," she said.