Art interprets music, 'Blues People' in Newark
Ron Scott | 7/18/2013, 3:16 p.m. | Updated on 7/18/2013, 3:16 p.m.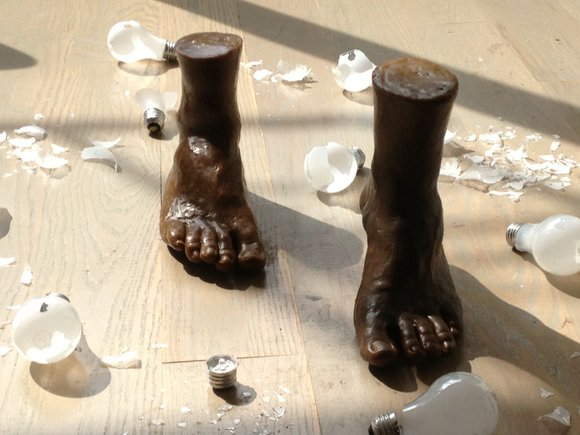 Persons visiting the "Motown to Def Jam" art exhibit won't be able to practice their dance steps, but they will see how 49 young artists have interpreted the music of these dynamic record labels through their artistic creativity.
The "Motown to Def Jam" exhibit is a unique project that is currently running simultaneously in four Harlem art galleries that highlights music with powerful messages from the record labels of Chess/Stax, Motown, Philadelphia International and Def Jam.
"There have been several debates in the news about the state of mainstream music over the past few years, from is hip-hop and R&B dead, to whether or not certain lyrics promote a culture of violence and materialism," said Souleo, curator of this exhibit. "I wanted to curate an exhibition that would bring greater attention to the history and impact of Black music creating a positive change in the world while also creating a platform for visual artists to gain greater exposure."
The exhibit, which runs now through July 26, can be seen at La Maison d'Art (259 W. 132nd St.), which presents the interpreted music of Chess/Stax Records. The gallery is open Wednesdays 4-7 p.m. and weekends 12-5 p.m. It's best to email info@souleouniverse.com.
The LeRoy Neiman Art Center (2785 Frederick Douglass Blvd.) has the creative sounds of Motown. Email neimancenter@artshorizon.
Strivers Gardens Gallery (300 W. 135th St.) presents Philadelphia International Records by appointment only. Contact info@souleouniverse.com.
Lastly, Sol Studio (2073 Adam Clayton Powell Blvd.) has Def Jam Records. Their hours are Wednesday through Saturday, noon-7 p.m. and Sunday 10 a.m.-3 p.m.
A piece from the Def Jam exhibit by Dianne Smith, "Afro Puff"—simply a large afro with a black pick attached to a clinched fist—is her vision of Public Enemy's "Fight the Power" from their album "Fear of a Black Planet." Artist Mike McManus interprets Kanye West's cut "Jesus Walks" from the album "The College Dropout" (2004) with an installation of two Black feet walking through broken light bulbs, titled "The Broken Have Been Chosen." JaSon Auguste's piece "Love Conquers War" is his interpretation of "Tribes at War" from Nas and reggae vocalist Damien Marley's album "Distant Relatives."
"In this age of seamless perpetual war amongst the tribes of men, there seems to be no end to the conflicts of individuals, states, nations and its peoples," noted Auguste. "But where there is destruction, there is a high price for all to pay the destruction of our lives."
At the Chess/Stax exhibit, Jeffrey Allen Price's "Ole Man Trouble," an acrylic on canvas, is based on the track "Ole Man Trouble" from the album "Otis Blue: Otis Redding Sings Soul" (Stax Records, 1966).
At the Motown exhibit, Jeremiah Kyle's collage "Love Child: Take a Look at Me" comes from the album and title track "Love Child" by Diana Ross and the Supremes (Motown, 1968). Philadelphia International is ignited by visual artist Tomo Mori's depiction of Teddy Pendergrass (canvas of deep reds and blacks) from Harold Melvin and the Blues Notes' "Wake Up Everybody."
"The process for this project started with my researching songs from each label to create a pool of socially conscious options from both popular and obscure artists," stated Souleo. "The main criteria was the song had to be distributed by one of the five labels and must be socially conscious. After artists chose a song, they followed their inspiration to create a visual interpretation of the music."