Benoit-Swan Pouffer choreographs new Broadway show
By CHARMAINE PATRICIA WARREN | 7/18/2013, 3:57 p.m. | Updated on 7/18/2013, 3:57 p.m.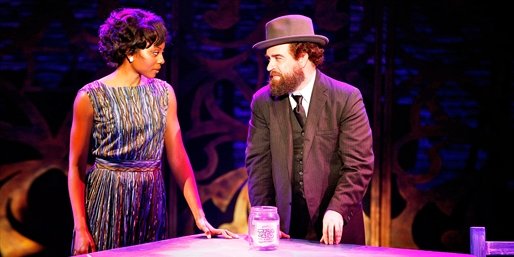 After nearly 10 years, Benoit-Swan Pouffer, the former artistic director of Cedar Lake Contemporary Ballet, has taken on a new position as choreographer for "Soul Doctor," which tells the tale of Rabbi Shlomo Carlebach, known as "Rabbi Rock Star of the '60s," and his unlikely friendship with legendary jazz singer and composer Nina Simone.
Pouffer was born in Paris and studied at the National Superior Conservatory of Paris for Music and Dance. In America, he was a member of Alvin Ailey American Dance Theater, Donald Byrd/The Group and Philadanco, and he has taught nationally and internationally. Pouffer has choreographed two Broadway shows, "Dangerous Beauty" at the Pasadena Playhouse, directed by Sheryl Kaller, and "Amazing Grace" at Goodspeed Opera House, directed by Gabriel Barre. He also choreographed dance sequences for the film "The Adjustment Bureau." Pouffer offered some candid thoughts on changing positions with AmNews.
Amsterdam News: After so many years with Cedar Lake, why did you leave?
Benoit-Swan Pouffer: It has been wonderful ... pushing boundaries and creating what Cedar Lake is, but I felt that part of me wanted to experience other projects and do other things. It was a very hard decision, but I came to the conclusion that it was the best time.
Do you have any regrets?
No. Not at all. I think it is going to be very different from what I did, and I'm looking forward to working with different people and having a different experience.
What do you believe your legacy is at Cedar Lake?
I am hoping that they will continue in the direction that I set as far as opening it to New Yorkers [and nationally] to discover choreographers that don't have the opportunity to choreograph in America. It was a very important mission for me and it was dear to my heart.

How did this move from concert dance to Broadway come about?
Broadway was always intriguing because people can sing, act and dance … it was something different. I'm not saying that I will never do concert dance again. Concert dance is in my bones and it was my life for almost 25 years. But it's a different experience and ... a perfect project for me to jump into.
Why "Soul Doctor"?
The producer knew about me, about my installations [for Cedar Lake], and Circle in the Square is a very different kind of a theater; it's a roundabout. They asked for me to immerse the audience with the work, so that's why I chose the show because it's not traditional Broadway.
What do you think of this "duet," so to speak, between Nina Simone and Rabbi Shlomo Carleback?
It's very interesting to discover Shlomo Calerback and that he had a very involved friendship with Nina Simone. Those two worlds collided and got inspired from one another. It is a really fascinating story. It's really an atypical relationship.
What's really interesting as well is the music. They use the song "Sinner Man," and you know how much I danced "Revelations" when I was a dancer for the Ailey Company. [I'm] rediscovering this song, this music, this melody and it's really interesting. It's not like I've done a full circle. I'm far too young to have done a full circle, but [for] that same reason, I'm hearing this song and it's interesting and challenging to create something else.