Finding justice for Trayvon: Protestors and activists move past anger to action
Amity Paye | 7/18/2013, 2:36 p.m. | Updated on 7/18/2013, 2:36 p.m.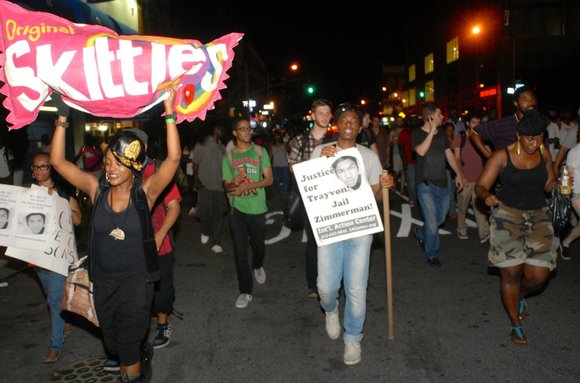 "Justice," called one man walking up Broadway Sunday afternoon.
"Justice!" screamed the crowd around him.
In an unpermitted march that took to the streets, an estimated 8,000 people rallied for Trayvon Martin in the wake of a jury decision that found his killer, George Zimmerman, not guilty of second-degree murder and manslaughter. A simple call-and-response of "Justice … justice" or "Justice for … Trayvon Martin" could be heard in similar marches around the country. But in the wake of what many see as an unjust jury decision in what is commonly called an unjust judicial system, many are left polarized, wondering what justice actually looks like.
For one group of girls videotaping a march for Martin on 145th Street in Harlem, simply the vision of people of color protesting in the streets was justice enough.
"Yes!" screamed one girl. "This is justice."
But her response prompted a couple protestors to break into tears. "This is not justice," someone yelled from the crowd. "This is only anger."
The crowd continued its chant, "Justice for … Trayvon Martin."
That anger that has now begun to manifest into many forms of action separate from the many marches and rallies in the streets. "In these most challenging of times, we are called upon to act. We must move from outrage to action. It starts today with the NBA and you! We urge the Department of Justice to act," read a statement from the National Bar Association, calling for lawyers to join the organization in Miami on July 27 and 29 to collectively address the situation. "The [Justice] Department can still address the violation of Trayvon's most fundamental civil right—the right to life"
Many are calling on the Department of Justice to take action. The National Action Network has called for 100 vigils on Saturday, July 20, to urge the Justice Department to open a civil rights case. One of the most popular pushes for the Department of Justice to take action is a petition from Moveon.org and the NAACP, which crashed the organization's website because of the number of people rushing to sign.
The petition statement calls on the Department of Justice to take action and file civil rights charges against Zimmerman in order to protect "the most fundamental of civil rights—the right to life." [[ED: STATEMENT FROM NBA ABOVE SAYS THE SAME THING]] The organizations got their sites back up and running and the petition had over 1 million signatures as of press time.
"We fight to roll back 'Stand Your Ground' laws and pass powerful anti-racial profiling ordinances, and do whatever we must to finally end the wars that are killing so many children in our neighborhoods," wrote NAACP President and CEO Ben Jealous. Other groups like Florida's Dream Defenders, a youth and student group that provides training and organizes around nonviolent civil disobedience, are calling for more direct action. On Tuesday, July 16, the Dream Defenders staged an indefinite sit-in at the Florida State Capitol.
"We are here because Trayvon can't be," reads the group's statement. "We are here to honor the memory of Trayvon Martin and pay respects to his family. This tragedy serves as a vivid reminder of the pain felt by our communities, in which we are profiled, criminalized and targeted. Unless we take action, nothing will change."