Finding justice for Trayvon: Protestors and activists move past anger to action
Amity Paye | 7/18/2013, 2:36 p.m. | Updated on 7/18/2013, 2:36 p.m.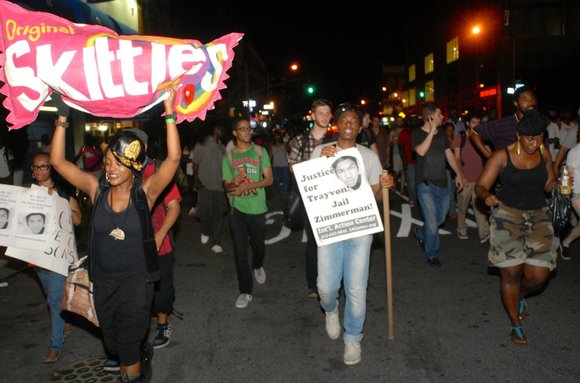 The group says they "will stay here as long as we see fit in defense of our rights as citizens, voters and human beings," and is calling for Florida Gov. Rick Scott to call a special session of the Florida Legislature to address what they call the "Trayvon Martin tragedy: Stand Your Ground vigilantism, racial profiling and a war on youth that paints us as criminals, and funnels us out of schools and into jails."
Continuing to channel the tactics used in the 1960s and 1970s, other protestors are beginning to stage boycotts for Martin.
At his concert in Quebec City on Sunday, Stevie Wonder said, "I decided today that until the Stand Your Ground law is abolished in Florida, I will never perform there again." He went on to extend his boycott to all states where the law exists. "What we can do is we can let our voices be heard, and we can vote in our various countries throughout the world for change and equality for everybody. That's what I know we can do."
Athletes have begun to spread the idea of boycotting as well. U.S. Olympic boxer Terrell Gausha said he will never wear the American flag on his uniform again and told TMZ, "How can I wear my stars and stripes proudly in a country where they make a big deal out of Mike Vick fighting dogs, but not a young, innocent Black male's life?"
One group, Stand Down for Trayvon Martin, is calling for every Black man in the country to boycott their jobs on Sept. 6 to "show the world that our voices, bodies, efforts labor and lives matter … Instead, we will use this time to connect with our families, perform service in our communities or find something to do to show that we are important to America."
Black men across the country are getting on board with this stand down. Some community groups are making moves to extend this boycott into a three-day truce called "Guns Down for Trayvon," Sept. 6-8, among gang members in New York City. Stand Down for Trayvon also urges NFL players to participate, saying if football players were to participate, it would alter the BCS and NFL standings for the entire season, forcing commentators to talk about Martin for the entire year.
"It won't be just Miami Dolphins and Jacksonville Jaguars, it won't just be Florida Gators and Miami Hurricanes. It will be your doctors, your nurses, your garbage collectors, your engineers standing down for Trayvon Martin, proving that our voices, our bodies, our lives matter," according to a video for the campaign.
While boycotts, sit-ins and petitions have proven effective in the past, still other activists are saying a petition or any form of protest is not enough. The Stop Mass Incarceration Network stated, "The whole damned system is guilty," and Trayvon Martin protestors in Harlem agreed on Sunday.
"The truth is, this system is structured around race. A new constitution can be made," said one protestor speaking in a march that had stopped outside of Harlem Hospital. "Can it?" he called to the crowd of about 400 people of color.