Finding justice for Trayvon: Protestors and activists move past anger to action
Amity Paye | 7/18/2013, 2:36 p.m. | Updated on 7/18/2013, 2:36 p.m.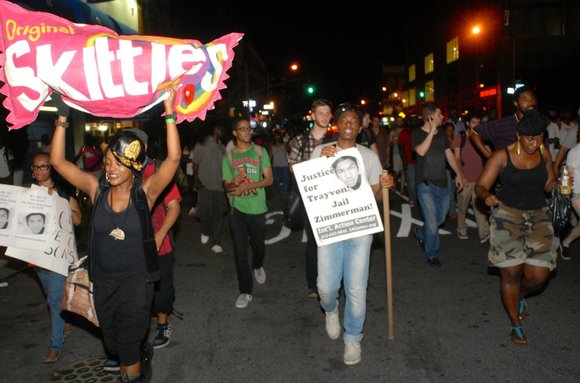 "Yes," they responded.
"If a new constitution can be made, that means we need a new constitution in the states."
While many have decried this sentiment as extreme or implausible, it exemplifies the frustration that people of color are facing in protesting the racist institutions in this county.
"We need a full takedown, or like a boycott, of the [judicial] system," said 16-year-old Karim, talking about the Zimmerman case Tuesday outside the Adam Clayton Powell State Office Building in Harlem.
Activists from various groups from around the city met Tuesday and pointed out that to change the justice system, you have to start with achievable goals. These included a united criticism of the culture and acceptance of policing in the United States and a targeting of groups like the American Legislative Exchange Council, which has pushed for laws like stop-and-frisk around the country. ALEC is a "nonpartisan, individual membership organization of state legislators that favors federalism and conservative public policy solutions," reads the group's website.
It has only been a few days since the Zimmerman verdict and hundreds of actions have already been planned; thousands of organizers have begun to coordinate their plans and millions of people have spoken out already. Only time will tell if they get justice, whatever that may look like.
"Instead of a moment of silence, we raise our voices together," wrote youth, quoting Audre Lorde, who were attending the Black Youth Project in Chicago last weekend. "Our silence will not protect us. We are young leaders standing on the shoulders of our ancestors, carrying the historical trauma embedded in a legal system that will not protect us. We are the legacy of Black resilience that compels us to fight for our lives."