The Home Run Derby and the Mid-Summer Classic were about highly heated match-ups
By Danny Torress | 7/18/2013, 2:23 p.m. | Updated on 7/18/2013, 2:23 p.m.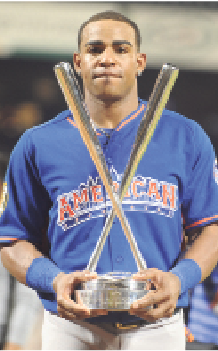 Throughout the All-Star Game festivities, the Big Apple was surely not the only locale that was scorching because of the unbearable weather conditions. Simply put, it was downright hot, hazy and, you guessed it, humid.
The annual Home Run Derby produced another type of sizzling heat. Ecstatic fans traveled from all walks of life to Citi Field and witnessed some of baseball's most memorable moments. Although Robinson Cano and David Wright, who were Derby captains for their respective squads, participated in the hitting contest and produced a few "ahh" moments with their bats, all heads turned for the final derby matchup: the Washington Nationals' 20-year-old phenom, Bryce Harper—whose dad, Ron, pitched to his son—and Cuban native Yoenis Céspedes, who ironically wasn't even named an All-Star.
Céspedes transformed Citi Field into a huge batting cage by slugging 32 homers overall, taking his unforgettable shots to every corner of the ballpark. Although Harper finished with a total of 24 homers, Céspedes was simply on fire considering his final blast—traveling an estimated 455 feet—cleared the centerfield wall and sailed over the Citi Field home run apple. The Oakland Athletics' outfielder became the 2013 Home Run Derby champion and winner of a 2014 Chevrolet Silverado.