Sean Bell's and Ramarley Graham's Mothers Speak out on Zimmerman's verdict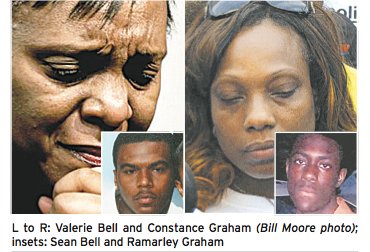 Rallies for Trayvon Martin continued in U.S. cities around the country after the jury found George Zimmerman not guilty of second degree murder or manslaughter in the shooting death of 17-year-old Florida teen, Trayvon Martin. Many are disappointed with the verdict, including Valarie Bell and Constance Malcolm - two New York mothers who have lost their sons to police shootings that have also sparked national outrage.
"When I heard the verdict I was lost for words. I couldn't believe," said Valarie Bell, mother of the late Sean Bell who was unharmed and killed at his bachelor party in South Jamaica, Queens by undercover NYPD officers in November of 2006. They fired fifty bullets at Bell, claiming that someone from his group had a fireharm. No gun was found and his police shooters were found not guilty of various charges including manslaughter and reckless endangerment. Bell's mother said she couldn't watch Zimmerman's trial because it brought back too many memories of her son.
"I could expect the outcome of Zimmerman's case to end like this, based on the way the criminal justice system is going," she added.
Constance Malcolm lost her son, Ramarley Grahman, less than twenty-four days before Martin was killed. Graham was chased into a bathroom in his grandmother's home and shot in the chest by a narcotics NYPD officer who claimed Graham had a gun and was in possession of marijuana. No gun was found and only a small bag of cannabis was found in the toilet. Graham died at the hospital. In May a judge threw out the indictment of the officer who shot Graham, who had been charged with manslaughter.
"The not guilty verdict became the replay of the night Zimmerman took Trayvon's life," reads Malcolm's email to the AM News. "Please do not let this happened to Ramarley. Do not let Richard Haste [the police that shot Graham] walk free as did Zimmerman. Please continue to help us fight the fight. As you see, there is no justice but injustice."
Prosecutors in Malcolm's case have decided to reconvene a grand jury to consider whether to indict the officer who fired at Grahman. Protestors outside the Bronx supreme criminal court on Sunday, July 16 in protest of the verdict in Zimmerman trial invited the crowd to join them in support of Malcolm on July 25th from 12 p.m. to 2 p.m.
For Bell, who is still morning the loss of her son, she said she strongly believes that racial profiling was responsible for Trayvon's death.
"He [George Zimmerman] called the police and they told him not to follow. Why did he go ahead and follow him?" Bell questioned.
The National Association for the Advancement of Colored People (NAACP) and the Civil Rights activist Rev. Al Sharpton have both called on the U.S. Department of Justice to conduct an investigation into the civil rights violation that was committed against Sean Bell. They have made another call on the Justice of Department for Trayvon Martin following Zimmerman's release Saturday. However, Bell said she believes that justice will not be served, just as the justice department has declined to prosecute the NYPD in her son's case.
According the Justice Department, there was insufficient evidence to pursue federal criminal civil rights charges against New York City Police Department (NYPD) officers involved in the fatal shooting of Sean Bell.
"Since they found him not guilty in the State's court, I think the same thing will happen at the federal level," said Bell. "But, I am praying that same thing doesn't happen."
Bell said she told Rev. Sharpton to tell Trayvon's parents not give up and they should stand tall and keep fighting for whatever they can get out of it.
"I hope they will do something to keep his [Trayvon] name out there in his community, just has how we have a community center to keep Sean Bells's name alive. My prayers are with them."