Feeling stressed? Well, Ky-Mani Marley has a drink for you
Souleo - | 7/23/2013, 10:53 a.m. | Updated on 7/23/2013, 10:53 a.m.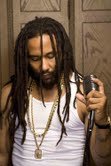 The Original Tee Golf Classic (OTGC), a celebrity amateur golf tournament will salute the legendary Renee Powell, one of the Ladies Professional Golf Association's (LPGA) first African-American golfers and OTGC's first female honoree. The event takes place this Sunday, July 21 at Wild Turkey Golf Club in Hamburg, NJ. Proceeds benefit Clearview Golf Course, the first integrated golf course established in 1946 by William Powell, father of Renee. The site is also noted as the first premiere planned, built, owned and operated African-American golf course in the U.S.
History is also an important part of this year's HARLEM WEEK, one of the most heavily attended summer festivals in the Northeast. For its 39th anniversary running from July 28th through August 24th the theme is, "Living The Dream: Celebrating History." The historical moments being honored include the 150th Anniversary of the signing of The Emancipation Proclamation and the 50th Anniversary of the historic March on Washington. Programming highlights include film festivals, sporting events, block parties, the Fashion Fusion show and the Concert Under The Stars featuring a special tribute to Stevie Wonder, led by Ray Chew, music director of "American Idol."
After these lively series of events you'll likely need one of Marley's Mellow Mood drinks to wind down.
---
The Harlem Arts Alliance is a not for profit arts service organization celebrating 10 years of service to a prestigious list of members such as the Apollo Theater, the Greater Harlem Chamber of Commerce, Columbia University, Harlem Stage (Aaron Davis Hall) and over 850 more cultural/arts institutions and individuals. The weekly column, Harlem Arts Alliance Presents: On the "A" w/Souleo, covers the intersection of the arts, culture and entertainment scene in Harlem and beyond and is written by Souleo, founder and president of event/media content production company, Souleo Enterprises, LLC.