The Cosmopolitan Review
Yvonne Delaney Mitchell | 7/29/2013, 10:34 a.m. | Updated on 7/29/2013, 10:34 a.m.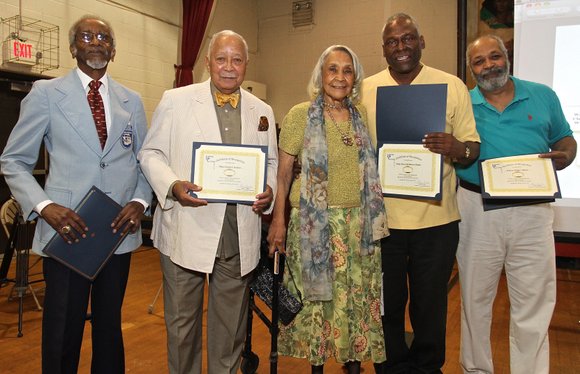 The Harlem Cultural Archives (HCA) Historical Society hosted an award ceremony inducting the first inductees into the Riverton Alumni Ring of Gold. These 27 members of the Riverton family were recognized for their numerous contributions to the Harlem community. Those present to accept their awards included Mayor David N. Dinkins, Constance Wright (mother of Assemblyman Keith L.T. Wright), Tuskegee Airman Wilfred DeFour and New York Knicks legend Cal Ramsey. Assemblyman Wright accepted the award for his father, Judge Bruce McMarion Wright.
The master of ceremonies was HCA Co-Executive Director Glenn Hunter. Also in attendance was Errol Louis, host of NY1's "Inside City Hall"; Yvonne Stennett, executive director of Community League of the Heights; Manhattan Borough President Scott Stringer; Ron Meyers; Jimmy Thomas; Dr. Gregory Page; Dexter Glasse; Charles Duke; Duane Hinton; Dr. Darlene DeFour; Grant Reid; Betsy Hamlet-Aridi; and Roger Parris.
The video slideshow of photographs of many of the Ring of Gold inductees and other Riverton alumni that looped continuously throughout the event was created by HCA Co-Executive Director Ken Sargeant. The event was expertly memorialized in the form of individual video interviews, videos and still photographs of the award ceremony by ValDean Entertainment, whose founder and CEO, Al Thompson, grew up in Riverton. As usual, DJ Jazzy Jerome kept the music pumping all evening.
Just can't say enough about Governors Island. The opening of Fête Paradiso, a festival featuring restored 19th century carnival equipment, is now open to the public and will run all summer in Nolan Park, located on Governors Island. It looks like a fun time for the whole family, so enjoy.
Looking for some summer madness? Throw a party. Punch out a dope playlist (I use iTunes and hook up a Sony portable speaker I purchased from Costco, and it sounds great!), concoct a fruity punch in your favorite punch bowl (My favorite is Hawaiian Punch. Mix it with orange juice and a bag of frozen mixed fruit thrown in and let it just melt down. Put the bottle of rum on the side and let guests either mix their own or have it straight), and invite your friends over for a last-minute dance party.
There are so many easy-to-fix appetizers available that you can throw this together in no time. I find a good mix are TGI Fridays' potato skins, Golden Krust meat patties (cut both of these in quarters and they will go a long way), a block of cheese, wasabi rice crackers and apple slices. Should you get adventurous, you can always make a pot of spaghetti for a main meal as long as you don't forget to throw some veggies in on the side (cole slaw will do).
I've also found that getting a big, round aluminum tub, filling it up with ice and then placing a mixture of small bottled water, beer, seltzer water and a few bottles of Pinot Grigio inside keeps everything icy cold and lets guests choose as they please—and by all means, have something yourself. To add a nice touch, slice up a lime, place it on a saucer and enjoy yourself.